November 13th, 2008
I guess you could say Denver was just a horse, but that would be wrong. Some creatures are more than they seem to be; their value to humanity transcends logic. Horses are like that. As Mark Twain said, "There is nothing so good for the inside of a man as the outside of a horse."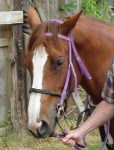 Denver lived all seven years of her life on my younger sister's place in southeast Texas. Never set hoof off the property. She died a couple of years ago, far too young and with too much life left to live.
Denver was a big mare, weighing about 1,300 pounds. Even though her size and strength could be intimidating to strangers, she was gentle and even-tempered. She loved having a stick rubbed briskly along her backbone. Do that, and she'd follow you anywhere. She would tolerate even the most inept rider with courtesy and no small amount of charity. But Denver seemed most alive with my sister in the saddle, the perfect match of superior horse and excellent rider. It was a pleasure to see the remarkable trust and affection they shared.
Sometimes there were other horses there to share Denver's life. The last was Ruby, a mare that had gone through a number of owners and had been severely abused. She had the scars to prove it. The relationship between Denver and Ruby was mystical. Ruby was skittish and frightened of just about everyone–my sister was the only one who could approach her. When Denver got too close, Ruby would whirl and bite her. When Denver was too far away or out of sight, Ruby would look for her anxiously, wanting her closer. Denver always returned to Ruby and tried to be near her, although she must have known she would probably be bitten for her trouble. There's no way to know what they sensed between themselves, but I have to believe that Denver knew Ruby was troubled and needed comfort.
One night my sister fed Denver, and she ate normally. The next morning, for the first time in her life, Denver didn't show up to eat. My sister went looking for her and found her staggering around near their small pond. She put on the halter and lead rope, and then Denver just collapsed into the pond. She was too weak to hold her head above water, so my sister jumped in and held her head up so she could breathe. Her husband ran to help her, and then a neighbor came to help. They tied the lead rope to a tree so Denver wouldn't drown and called the local veterinarian. He came quickly, and all of them were finally able to drag Denver's limp body out of the pond.
Denver lay beside the pond for a long time. For a couple of hours she struggled valiantly to stand, but she was too weak. She remained on the ground beside the pond for almost 24 hours, and then she died.
Denver died slowly and in agony from West Nile Disease. My sister didn't know that horses could get it, and she learned later that a number of other horses in the area died the same way. There were no animal health announcements, no warnings from the local authorities. Even the veterinarian wasn't sure what was wrong with her. Denver died for lack of a vaccination that would have cost about $20.
Writing about that long day and night she spent watching Denver die, my sister said, "I watched her helplessly. I never felt worse in my life. You feel so helpless when a massive, gorgeous horse dies, for no apparent reason. I really miss her."
Articles written by Tom Carter
Tags: friend, horse
Categories: Life | Comments (3) | Home
Leave a Comment
(To avoid spam, comments with three or more links will be held for moderation and approval.)