December 25th, 2008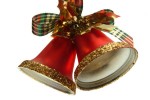 Christmas this year is not as joyous for some people as it was in the past.  More people are out of work, companies are slowing down or shutting down, retirement plans for some have been diminished or destroyed by investment losses, and in general the economic future looks bleak.  In some families, children will be disappointed to find that Santa left fewer gifts than they had hoped for.
Like every Christmas, there are also people who for various reasons have virtually nothing.  Some, including children, are homeless.  Others are elderly and without resources or family support.  Kind souls in their towns and neighborhoods will help them, as they do throughout the year and always at Christmas.  But this year, there is less to give.
Under these circumstances it might be natural for joy to yield to despair.  And for those susceptible to holiday depression, this year could be worse than others.
Despite these challenges, or perhaps because of them, many people will find extra comfort and joy in their families and among their friends.  There may not be enough money to make this a normal Christmas, but all the important things are still free–love among family and friends, the spirit of giving even when there isn't enough for yourself, and a yearning for the sense of peace and brotherhood that Christmas always brings.
There is always hope for a better future.  The economy may be bad, but it will improve with time.  Jobs are lost, but new jobs are found.  No matter how bad times may be, people will still help those in greatest need.  And most important of all, those who love you will still be there.  Even children who didn't get everything they wanted under the Christmas tree will understand that they are still loved.  And we'll all be OK.
Merry Christmas, and best wishes to all of us for a better year in 2009!
Articles written by Tom Carter
Tags: Christmas, families
Categories: Life | Comments (2) | Home
Leave a Comment
(To avoid spam, comments with three or more links will be held for moderation and approval.)