January 1st, 2009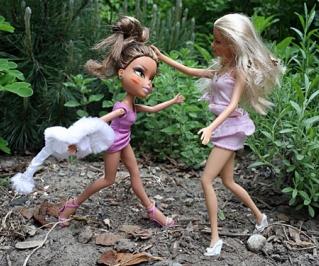 Do you know that the company that makes Barbies has sued the company that makes Bratz, and now they can't sell Bratz dolls anymore?  Only Barbie dolls!  You can read the details here.  Just a little of the article says:
… a federal judge banned MGA from making and selling its popular Bratz dolls. "It's a pretty sweeping victory," Mattel attorney Michael Zeller said. "They have no right to use Bratz for any goods or services at all." … U.S. District Judge Stephen Larson rocked the toy industry with his order that MGA must immediately stop manufacturing Bratz.  He allowed MGA to wait until the holiday season ends to remove the toys from store shelves. … The same jury later awarded Mattel $10 million for copyright infringement and $90 million for breach of contract after a lengthy trial stemming from Mattel's 2004 lawsuit ended in August. … During trial, Mattel attorneys said MGA made nearly $778 million on the Bratz dolls since 7 years ago when it was introduced, but MGA insisted the profits were much less.
I think that judge made a bad decision.  They have made a lot of money but could have made much more in the future because so many people like Bratz dolls.
I really liked Bratz when I was a little younger.  My sister and I always played with Bratz until last year, when we stopped playing with them.  But my sister started playing with them again with her friends.  She has lots of Bratz in her room.  She still loves them.  We always would dress them in pretty clothes and brush their hair.  I bet there's going to be a lot of girls upset about not having Bratz.  But I guess they can play with the ones they already have.  If you have any Bratz that are still in the package, then they're probably going to be worth a lot of money some day.  My sister just recently got three Bratz dolls for Christmas.  If you go in her room, there are Bratz everywhere and a huge dollhouse with an elevator and furniture inside.
Bratz dolls also had Bratz kids and pets with clothes.  To me, Bratz were just the same as Barbies, but shorter, bigger heads, bigger lips, and their feet come off.  The feet coming off is actually very weird.  But you can change them, like you change shoes.
Some people thought that Bratz were too "sexy" because of their looks.  But really I don't think that the age group that actually plays with them would ever think of that.  When I played with them I didn't really understand that.  And now I just disagree.  They are just dolls.  And they are wearing normal clothes, not anything too revealing.  I think it's sad that they can't be made anymore, for the little girls who like them.
Well, that's a wrap!
Articles written by Amber
Tags: Barbie, Bratz, Law
Categories: Life, News | Comments (11) | Home
Leave a Comment
(To avoid spam, comments with three or more links will be held for moderation and approval.)