January 21st, 2009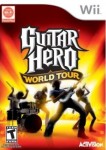 I got a Wii for Christmas and have been playing it non-stop. It's so much fun! We have lots of Wii games. We have Sing-it, Guitar Hero, Play-it, Sports, High School Musical Dance, and Dance Revolution.
My favorite Wii game is probably Guitar Hero. I play that game the most. On Guitar Hero you can make your own rock band. You can also choose if you want to use the microphone, guitar, or drums. I always use the guitar. All of the songs on our Guitar Hero are songs from a long time ago. My two favorite songs on the game are Eye of the Tiger and Livin' on a Prayer.
On the Wii you can make your own Mii's. A Mii is a person you create to be "you" in games. There is also a news channel and a shopping center on the Wii. But, to get those you have to have an internet connection hooked up to your Wii.
My other favorite game is Sing-it. Our Sing-it has Disney songs on it. There's High School Musical, Camp Rock, Vannessa Hudgens, Aly & Aj, and Hannah Montana songs on there. I love this game because I love to sing.
The Wii may cost a lot but it is so worth it! I recommend this to any family. Not just children, parents too! Some adults even buy it just for themselves. It was actually rated as the most family-oriented, too. This is my favorite game system!
(Editor's Note:  We do not receive compensation for products or companies mentioned in articles.)
Articles written by Amber
Tags: games, music, Wii
Categories: Arts, Life | Comments (3) | Home
Leave a Comment
(To avoid spam, comments with three or more links will be held for moderation and approval.)