February 24th, 2009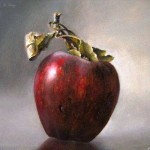 Put yourself in this situation: Your friend tells you there's a beautiful and peaceful lake down the road. There is a locked gate and a "No Trespassing" sign around the gate. Your friend tells you that there's a key under a rock by the gate. You get the key and unlock the gate and go in. You have lots of fun swimming in the lake. The next day you have blisters everywhere and itch a lot. You go to the hospital and it turns out that the water in the lake is toxic waste. Would you be mad at your friend? I would be upset. But you had two warnings. The locked gate and the "No Trespassing" sign.
There are all kinds of temptations in life. We know what the warnings are and what the consequences of our actions are. We need to be cautious of temptation.
Here are some of the temptations we might face:
One is to get rich quick, which can lead to shoplifting or other kinds of stealing. The result is loss of reputation, a criminal record, and jail.
Another temptation is self-gratification, perhaps resulting in drug abuse. The result is addiction, brain damage, ill health, or even death.
Finally, there is the temptation of instant pleasure and popularity. The result is immorality, loss of virtue and self-esteem, and possibly pregnancy out of wedlock and disease.
We can avoid temptation by maintaining good moral standards, which for some people means guidance from religious beliefs. Having good moral standards can help us avoid depression. We can also feel it when something is wrong.
We need to be cautious of what's right and what's wrong. Like one time I went to Hot Topic with my friend. We went there to get a shirt that had Edward on it from "Twilight." Hot Topic is a Goth store that has really bad stuff and bad music inside. But I wanted to go in there to get the "Twilight" shirt. It felt bad, like a part of me was gone. So I left the store.
I know that I have standards to guide me and tell me what's wrong and what's right by a feeling inside. I know that if I am cautious and stay close to my beliefs that I will have a better chance of not giving in to temptation.
Articles written by Amber
Tags: morality, temptation
Categories: Life | Comments (9) | Home
Leave a Comment
(To avoid spam, comments with three or more links will be held for moderation and approval.)