February 23rd, 2009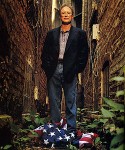 Bill Ayers, erstwhile terrorist bomber and current professor at the University of Illinois in Chicago, will be interviewed on Fox News tonight by Alan Colmes, according to Drudge. 
Ayers, who holds the titles Distinguished Professor of Education and Senior University Scholar, spends his time these days working on education reform, curriculum, and instruction.  Ironies abound.
On setting bombs when he was with the Weather Underground, Ayers reportedly says to Colmes:
I don't regret anything I did it to oppose the war. It was — I did it to oppose the war. I don't regret it.

I don't look back on those things and regret them, but I'm willing to rethink them. And there are many things which I'm going to rethink.
On President Obama's decision to send 17,000 more troops to Afghanistan:
It's a mistake. It's a colossal mistake. And, you know, we've seen this happen before, Alan. We've seen a hopeful presidency, Lyndon Johnson's presidency, burn up in the furnace of war.

I fear that this brilliant young man, this hopeful new administration, could easily burn their prospect of a great presidency in the war in Afghanistan or elsewhere.
The greatest irony is that the country he hates and would destroy is one of the few countries in the world that would let him get away with what he, his wife, and his friends tried to do.  In most other countries, he would be speaking from a prison cell, if he could speak at all.
Perhaps the most important question is why anyone cares what Bill Ayers thinks.
(This article was also posted at Centerfield.)
Articles written by Tom Carter
Tags: Afghanistan, Bill Ayers, terrorist
Categories: News, Politics | Comments (5) | Home
Leave a Comment
(To avoid spam, comments with three or more links will be held for moderation and approval.)