March 23rd, 2009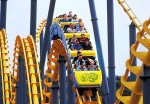 Summer is coming up so fast and so is Summer Vacation! The last day of school is May 29th.
It feels like this year has gone by really fast. I can't believe it's already almost April! I am excited for the school year to be over, but I love going to school and learning.
Also, my family is planning to put the house up for sale in the summer, and that means that I won't see my friends if we move. My friends were really sad when I told them. But I promised to stay in touch and that we will always text each other.
But with this economic struggle we might not sell our house anytime soon.
I plan on being with my family and friends in the summer. We are going to start a garden so that would be fun. I love to garden, and we had a garden last year, but we tilled it up. When we did have one, we had tons of vegetables and fruit. The two foods we had the most of were cucumbers and tomatoes.
We also might go to Sea World or something like that. I love roller coasters! I like that feeling you get when the ride is about to start. It's like you're really nervous but also really excited at the same time!
I will read lots of books, too! I plan to read the Twilight series again, some Chicken Soup books, and more vampire books! I'm also going to re-read the last two Harry Potter books.
I'm going to continue doing sewing projects, too! I wrote about that in another article, Sewing.
Articles written by Amber
Tags: family, friends, garden, summer
Categories: Life | Comments (2) | Home
Leave a Comment
(To avoid spam, comments with three or more links will be held for moderation and approval.)