April 25th, 2009
"It's unlikely that as a consequence of me shaking hands or having a polite conversation with Mr. Chavez that we are endangering the strategic interests of the United States." — President Barack Obama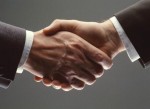 That is a fascinating statement by the President. On the surface, the words he uses seem pragmatic, insightful and forward thinking. It is evident that the President truly believes he is doing the right thing by shaking hands with Mr. Chavez.
The problem is that the positive intent behind the statement is completely contradictory to the troublesome signal it sends. Read carefully, these 29 words clearly explain the role America will have in the world during his presidency. I cannot think of a time when an American president has so obviously wavered in supporting the principles of freedom, democracy, and the rule of law that America has stood for over the years.
What makes foreign policy so delicate is that every single action a leader makes sends a signal to the rest of the world. The significance of a simple handshake between President Obama and Mr. Chavez does not only impact U.S. and Venezuelan relations. The incident cannot be isolated. That handshake and conversation, which were so publicly seen, also sent signals to Moscow, Beijing, Pyongyang, Tehran, Jerusalem, Ankara, Islamabad and Havana.
There is no debate that America's image is not viewed positively in some parts of the world. It is healthy to have a new President who takes great steps to better communicate American foreign policy. But what does it really say about American foreign policy when the United States President shakes hands and smiles while talking to individuals who publicly state our system, values and way of life are wrong?
The signal it sends is not one of reconciliation and reaching out, but one of weakness and doubt. The signal from the United States is that while we say we stand for democracy, freedom, individual rights, and the rule of law, we need to do it in a way that does not upset those who disagree with us. The signal it sends is that the United States is willing to acquiesce our own values if it means we might be more popular with a select group of people.
Some of the most troublesome signals that have been sent in the last few months include:
— Our relations with our strongest allies in Eastern Europe including Estonia, Latvia, Lithuania, Poland, Romania, and Ukraine will be viewed through the prism of whether they antagonize Russia. Anytime Russia objects, the U.S. will pull back in the name of "resetting" our relations with Moscow.
— The United States is no longer willing to take a strong, public stand for grass-roots democratic movements such as those taking place in Moldova. Taking a completely tepid approach, which is exactly what happened, will not rock the boat.
— The United States is willing to immediately turn the other way on issues of human rights and basic individual freedoms when dealing with China.
— The United States' solution to working with Central and South America revolves squarely on working with a Cuban government that rejects political freedom, religious independence, a free media, and any basic form of individual liberty. However, maybe the Castro brothers will stop bashing America so frequently?
It is absolutely in the strategic interest of the United States to staunchly support those who share our values. It is in the strategic interest of the United States to stand up to those who do not.
Articles written by Trevor Dane
Tags: Chavez, foreign policy, Obama
Categories: Politics | Comments (11) | Home
Leave a Comment
(To avoid spam, comments with three or more links will be held for moderation and approval.)