May 12th, 2009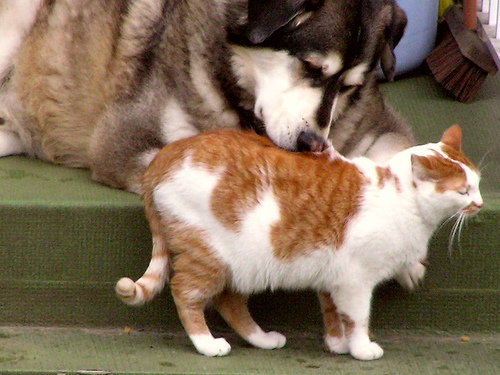 I am an animal lover, and I have had dogs and cats before. The majority of people own some kind of pet, and the two most common pets are cats and dogs.
Both dogs and cats are family-oriented, but people disagree about which one is more for families. Cats and dogs were made to be the pets we love today by years and years of breeding. Cats came from North Africa. Wild cats were tamed by the ancient Egyptians in Northern Africa. Dogs originated from wolves and were tamed first in eastern Asia.
Dogs were pets 5,500 years before cats. Dogs were the first pets tamed by human beings and were domesticated at around 15000 BC. On the other hand, cats have been domesticated since 9500 BC, by the Egyptians. Dogs were the first pets probably because they are loyal and very obedient.
There are millions of dogs and cats in the United States today. There are about 100 million cats that are owned by families and about 110 million dogs in the U.S.
Cats are not as high-maintenance as dogs. Cats are dependable and don't need much attention because they lay around all day. Cats are very lazy while dogs like to run around and play.
People often make the mistake of thinking dogs are a lot smarter than cats because they can do complicated tricks. But surprisingly, cats are a lot smarter than dogs. In fact, cats could easily perform tricks twice as complicated as dogs. The only reason they don't is because they are stubborn and only do what they feel like doing. Dogs are very loyal and obedient, and that's why they like to do tricks for their master. To sum up, cats are a lot smarter, just more stubborn than dogs.
Cats are my favorite pet because I can just lay around with them and pet them. They don't drool all over you. Cats have soft fur that is fun to pet.
Lots of people see cats and dogs as pretty much the same pet, but hopefully after reading this, you can see all the differences between these two great pets!
Articles written by Amber
Tags: cats, dogs, pets
Categories: Life | Comments (20) | Home
Leave a Comment
(To avoid spam, comments with three or more links will be held for moderation and approval.)