May 16th, 2009
By Tom Carter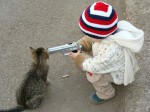 As I made clear in Gun Control and Guns Are Not the Answer, I strongly favor strict federal gun control laws, including prohibition of private possession of handguns.
It would be hard to find a better example of the insanity of having so many guns in the hands of so many people than an incident that occurred in South Carolina recently.
Crystal Samuel and some of her friends went to a Waffle House restaurant in the wee hours of the morning.  She ordered an item from the menu.  In her words, "I thought I was gonna get me an 'All-Star.' Grits, sausage, toast, eggs and a waffle."
The waitress, Yakeisha Ward, didn't bring Crystal what she wanted.  An argument developed, and Crystal threw a waffle at Yakeisha.  Crystal said, "I did actually throw some food but it didn't hit her. That's when she jumped across the counter and we got into it."
The fight went outside, and Yakeisha ran to her car and got a handgun.  In the melee a shot was fired, and a bullet fragment hit Crystal in the arm.  Yakeisha delivered the last blow when she hit Crystal in the head with her gun.
Apparently the gun was legally purchased, but that doesn't make any difference.  It should be illegal for a private citizen to possess the gun, with simple possession punishable with prison time.  Actually using a handgun in the commission of a crime, in this case assault, should automatically result in a long prison sentence.
There's no way to keep people from behaving like idiots; they're going to go after each other now and then.  Fine.  Let them do it with waffles.  But not handguns.
Articles written by Tom Carter
Tags: gun control, Law
Categories: Humor, Politics | Comments (32) | Home
Leave a Comment
(To avoid spam, comments with three or more links will be held for moderation and approval.)