May 20th, 2009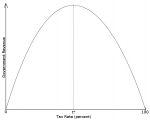 A recent column in the Wall Street Journal Opinion Journal discusses a fundamental problem of raising taxes.  People are rational actors, and beyond a certain point, higher taxes result in their voting with their feet.  They move elsewhere, to places where taxes are perceived to be more reasonable.  Everyone doesn't react this way, of course.  But enough do that it can mean higher taxes result in lower tax revenue for the taxing jurisdiction — local, state, or federal.
The column was written by Arthur Laffer and Stephen Moore.  That's right, Arthur Laffer of the famous (or infamous, depending on your point of view) Laffer curve.  This represents the fact that raising taxes beyond a certain point actually reduces tax revenue.  It's obviously accurate — a 100 percent tax will result in essentially no revenue because no one will work.  The debate centers around the point at which raising taxes has a negative result.
Those of a certain ideological cant will refuse to even read the column because Laffer co-wrote it.  That represents the kind of closed-mind approach to public policy that results in ever-higher taxes, followed by draconian measures to prevent people from making the rational decisions that will permit them to avoid the taxes.  The result, of course, is loss of freedom and quality of life.
Or, political leaders demand that citizens accept higher taxes by threatening to cut the most essential services, like education, police, and fire protection.  Or they threaten to release thousands of imprisoned illegal immigrants and other felons.  Rarely do they make any effort to cut non-essential services and benefits that are supported by politically powerful special interests. 
In the column, Laffer and Moore present an impressive array of data to show that states with the highest taxes are losing the people and businesses most able to pay, providing less effective services, and suffering greater economic woes than states with lower taxes.  From the column:
Here's the problem for states that want to pry more money out of the wallets of rich people. It never works because people, investment capital and businesses are mobile: They can leave tax-unfriendly states and move to tax-friendly states.

…Americans are more sensitive to high taxes than ever before. The tax differential between low-tax and high-tax states is widening, meaning that a relocation from high-tax California or Ohio, to no-income tax Texas or Tennessee, is all the more financially profitable both in terms of lower tax bills and more job opportunities. …

We believe there are three unintended consequences from states raising tax rates on the rich. First, some rich residents sell their homes and leave the state; second, those who stay in the state report less taxable income on their tax returns; and third, some rich people choose not to locate in a high-tax state. Since many rich people also tend to be successful business owners, jobs leave with them or they never arrive in the first place. This is why high income-tax states have such a tough time creating net new jobs for low-income residents and college graduates.

Those who disapprove of tax competition complain that lower state taxes only create a zero-sum competition where states "race to the bottom" and cut services to the poor as taxes fall to zero. They say that tax cutting inevitably means lower quality schools and police protection as lower tax rates mean starvation of public services.

They're wrong, and New Hampshire is our favorite illustration. The Live Free or Die State has no income or sales tax, yet it has high-quality schools and excellent public services. Students in New Hampshire public schools achieve the fourth-highest test scores in the nation — even though the state spends about $1,000 a year less per resident on state and local government than the average state and, incredibly, $5,000 less per person than New York. And on the other side of the ledger, California in 2007 had the highest-paid classroom teachers in the nation, and yet the Golden State had the second-lowest test scores.

Or consider the fiasco of New Jersey. In the early 1960s, the state had no state income tax and no state sales tax. It was a rapidly growing state attracting people from everywhere and running budget surpluses. Today its income and sales taxes are among the highest in the nation yet it suffers from perpetual deficits and its schools rank among the worst in the nation — much worse than those in New Hampshire. Most of the massive infusion of tax dollars over the past 40 years has simply enriched the public-employee unions in the Garden State. People are fleeing the state in droves.
The same logic also applies to federal taxes on businesses and individuals.  One of the reasons so many businesses re-locate overseas, move some operations overseas, and outsource services is to avoid taxes.  People do the same thing, essentially, by hiding money overseas or even moving to other countries and renouncing their U.S. citizenship.
What's the answer?  A reasonable balance between spending and taxing, as perceived by the people who have to pay the taxes.  Can we do that by putting questions of taxing and spending directly to the people?  The experience of California is instructive.  The people of that financial disaster of a state have just voted again to prevent higher taxes and protect desired services, which is a major factor in the state's financial crisis.  It seems the only real answer is leadership by politicians wise enough to manage economic policy.  Instead, we get leaders of the left and right who are so slavishly devoted to ideology that we get the mess we're now struggling with.  Too bad.
One issue not addressed by Laffer and Moore is the demographics of the states discussed in the article.  Another topic, another day.
Articles written by Tom Carter
Tags: economy, taxes
Categories: Economics, Politics | Comments (7) | Home
Leave a Comment
(To avoid spam, comments with three or more links will be held for moderation and approval.)