May 11th, 2009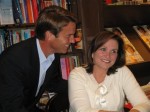 Elizabeth Edwards has been ubiquitous on TV and in the press of late.  She's the wife of John Edwards, one-term senator, vice-presidential candidate in 2004, presidential primary candidate in 2004 and 2008, and wealthy trial lawyer.  
Mrs. Edwards suffers from terminal cancer.  This was very publicly announced in a joint appearance with her husband during his latest campaign for the Democratic presidential nomination.  Her recent visibility is the result of a publicity tour promoting her book Resilience. 
The book apparently goes into detail on her husband's seedy affair with a woman named Reille Hunter, who was paid lots of campaign cash for a make-work video she shot during his campaign.  There has also been serious speculation that Edwards is the father of Hunter's baby, a possibility that Mrs. Edwards has not denied during her book tour.
The Edwards' joint announcement of the return of her cancer, during which they announced that his campaign for president would continue, was a skin-crawler.  There were many things about it that just didn't seem right, but it wasn't acceptable to speculate too far on their motives.  After all, the lady has cancer. 
Now, Mrs. Edwards herself makes it pretty clear that she was more enabler than victim, just about as hungry for the power and prestige of the presidency as her too-slick-by-half husband.  As the tour continues, more and more people are asking hard questions, as reflected in an NPR blog post.
Perhaps the most brutally honest opinion has been that of Roger Simon of Politico.  In addressing the question of Elizabeth Edwards' role in the scandal and the larger context, Simon wrote:
John Edwards is a beast, a wretch, a vile and low creature unworthy of any sympathy. He had an affair with Rielle Hunter, and he lied about it to the press. And now he must pay the price.

Lying cannot be tolerated. John Edwards has no future in the Democratic Party, a party scrupulous about whom it adores.

Bill Clinton is one of the most revered and admired figures in the Democratic Party today. He had an affair with Gennifer Flowers before his 1992 presidential campaign and lied about it to the press. He had an affair with Monica Lewinsky while he was president and lied about it to the press, his wife, staff, friends, colleagues, the Cabinet, investigators and Congress.

So you can see the difference.

Edwards is back in the news for two reasons. First, he is under federal investigation for possibly converting campaign funds to his personal use — i.e., paying his mistress, who was supposed to be making videos for the campaign.

Second, his wife, Elizabeth, is promoting her new book, going on "The Oprah Winfrey Show" and talking about her husband's affair and its effect on her. …

So while Elizabeth Edwards was certainly victimized by John, she also became not just his co-conspirator but also his attack dog. Was she being used by him? Or did she want to get to the White House as badly as he did?
Every decent person continues to have a great deal of sympathy for Mrs. Edwards, although she's making it a bit difficult.  It would be best for her, her family, and her disgraced husband if she stopped talking and explaining so much.
Articles written by Tom Carter
Tags: Elizabeth Edwards, John Edwards, Rielle Hunter
Categories: News, Politics | Comments (3) | Home
Leave a Comment
(To avoid spam, comments with three or more links will be held for moderation and approval.)