May 17th, 2009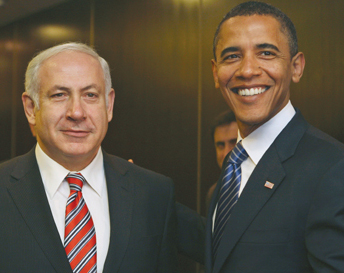 On Monday, Benjamin Netanyahu, Prime Minister of Israel, will have his first face-to-face meeting with Barack Obama since he became president.  When these two leaders meet at the White House, there's likely to be some head-knocking, at least behind closed doors.
President Obama's policies regarding Israel and the Middle East are thin and contradictory.  The first red flag waved during the campaign, when Obama said in a speech to a pro-Israel group, "Jerusalem will remain the capital of Israel, and it must remain undivided."  That was an absurd statement, given that the status of Jerusalem is one of the more contentious issues between Israel and the Palestinians.  Following vigorous negative responses from the Palestinians and Arab leaders, Obama and his campaign quickly backtracked.
This faux pas was a clear early indication that Obama and his staff didn't have a good understanding of Middle East issues.  From that point on, his clear sympathy for Muslim concerns and Palestinian positions, plus a low-key if not distant attitude toward support for Israel, have been a cause of concern for the Israeli leadership.
One important reason for the disconnect between Israel and the U.S. is differing priorities.  The U.S., under President Obama, seems to be most concerned about the plight of the Palestinians and how to reconcile their differences with Israel to reach a two-state solution.  Israel places a higher priority on Iran and its apparent determination to become a nuclear power.  Obama's comments in the campaign about meeting with Iran's leader without pre-conditions and subsequent events have led Israel to believe that Obama is a naif who doesn't understand the existential threat Iran presents for Israel.
All things considered, it's understandable that Israel might question the sincerity of Obama's expressed support for Israel and might be worried about his apparent affinity for those who are sworn to destroy them.
The bellwether issue at this point is support for a two-state solution, in which Israel would be able to live in peace and security with a neighboring Palestinian state.  Superficially, this seems to be the ideal solution.  But, as they say, the devil is in the details.
Israel cannot accept a two-state solution that does not resolve the question of security.  Its greatest nightmare would be an independent Palestinian state bent on its destruction through continued terrorism, but with a new ability to import heavy weapons and train them on Israel's cities and its major airport.  Given the history of the region, it's hard to envision a diplomatic solution that would leave Israel confident that it could have a future of peace and security.
Another major issue is the so-called "right of return."  This concept involves the return of Palestinians, mostly their generational descendants, to land they once occupied, but usually didn't legally own, in what is now Israel.  As Israelis and their opponents both understand, this would swamp Israel with Palestinians claiming land, rip the political and economic fabric of the country apart, and render the Jews of Israel a minority within their own country.  Israel will never permit this to happen, and any attempt to include a "right of return" in a negotiated two-state solution will be dead on arrival.
A third issue, more manageable but still very difficult, is the status of Israeli settlements on land that is perceived by some to belong to the Palestinians. It's hard to imagine a two-state solution that would be acceptable to the Palestinians without including a requirement for Israel to completely remove these settlements.  In Israel, removal of the settlements is an issue so sensitive that any prime minister who tried it would probably lose his job.  In any case, Netanyahu has taken the position that he intends to expand the settlements, which makes a two-state solution seem even more unlikely.
Finally, there's the Iranian threat.  Iran's president, Mahmoud Ahmadinejad, has made it crystal clear that Iran's goal is the destruction of Israel, which dovetails with the objective of their Arab neighbors.  Today, Iran's ability to further that goal isn't significant.  If they succeed in developing nuclear weapons, however, they will suddenly be far more threatening to Israel than all the Arab states put together.  Israel assumes, probably correctly, that Iran would use nuclear weapons against Israel if it had the chance.  This may not be an issue that directly militates against a two-state solution, but Israel is unlikely to focus its attention in that direction until the threat of Iran is dealt with.
Obama seems to strongly support a two-state solution, and Netanyahu does not, at least not until the most difficult issues are resolved.  Signals are being sent from high political levels in Israel that Netanyahu will tell Obama that he now supports a two-state solution.  However, it's difficult to see how that will mean much, given the intractable issues involved.
I think this Obama-Netanyahu meeting will produce the normal upbeat public statements and press conference smiles, handshakes, and back slaps.  Behind closed doors, I suspect that Netanyahu will instruct Obama on some of the realities of politics and diplomacy in the Middle East.  He will make it clear that Israel will not permit Iran to develop nuclear weapons, with or without U.S. support, any more than it permitted Iraq to do so in 1981.  He may also succeed in giving Obama a better understanding of the difficulty of resolving the other issues they both face, from a perspective not often heard in the circles in which Obama travels.
It's unlikely that significant agreements will result from this meeting.  It's doubtful that Netanyahu will be able to change Obama's mind on the key issues, considering his predilections and the advice he gets from other quarters.  On the most explosive issue, Obama may give Netanyahu a wink and a nod on direct Israeli action against Iran, but Netanyahu would be wise to take it with a grain of salt.  When the stuff hits the fan after an Israeli attack on Iranian nuclear facilities, Obama will cut and run. 
For more information:
World Watches for U.S. Shift on Mideast, The New York Times
Obama, Netanyahu to Meet at White House, The Washington Post 
At odds with Obama, Netanyahu heads to U.S., Reuters
Articles written by Tom Carter
Tags: Iran, Netanyahu, Obama, two-state
Categories: News, Politics | Comments (1) | Home
Leave a Comment
(To avoid spam, comments with three or more links will be held for moderation and approval.)