May 31st, 2009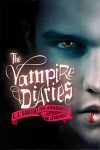 I've had an interest lately in vampire books. ("Twilight" got me into that!)
My grandma told me about a series called "The Vampire Diaries." There are five books in the series. She said she read them when she was younger and said they were really good. So, I got the series and started reading them.
The first two books were really good and exciting. It's about a girl named Elena who can get any boy she wants because she's beautiful. Matt, Meredith, and Bonnie are her best friends. Bonnie has psychic powers. She predicts that a strange guy will be in Elena's future. A boy named Stefan comes to their school and they are all shocked because he's so handsome. Elena is determined to get him. But, he doesn't seem interested.
Elena and Stefan end up together, and she finds out he was avoiding her because he knew someone that reminded him of her. He tells Elena that her name was Katherine and she was a vampire. Katherine liked Stefan and his brother, Damon. They told her she had to choose one of them. That night she turned them into vampires and told them they would all be together forever and they would share her. Stefan and Damon got mad and said they wouldn't share. She ran off and killed herself, hoping that they would stop fighting and be friends.
The rest of the books I didn't like. They made me mad to the point where I wanted to stop reading them. I am now on the last book, and I'm thinking about stopping reading them, but I want to know what happens. But my Uncle Tom says that if I'm not enjoying reading them then I should stop because then they're just a waste of time.
So, I'm thinking of stopping. Why I'm not enjoying them is because people you love die, love the wrong people, and forget that they love a person when they do. I know that happens in life but why should I read about it when I'll have to deal with it and see it in real life also? I want a book that makes me forget what's happening in the real world and makes me feel happy. I don't mind a few bad parts, but "The Vampire Diaries" has them all through it!
The only books that were good were the first two. The others I didn't like. Also, some parts were just plain weird. Like people floating around like angels, trees hurting people, and someone who has to kiss them to identify how they act and how they are. I think I would recommend the first two but not the others.
I think I'm going to try to read a variety of books and see which ones are my favorites. I'm going to probably try The Hourglass Door, Songs of Ice and Fire, and maybe Gone with the Wind.
Articles written by Amber
Tags: literature
Categories: Arts, Life | Comments (2) | Home
Leave a Comment
(To avoid spam, comments with three or more links will be held for moderation and approval.)