June 19th, 2009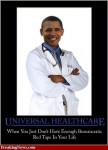 Health care reform is the most far-reaching, expensive, and ambitious item on President Obama's visionary domestic agenda.  In terms of cost, everything else pales in comparison.  Not only would it cost far more than we can afford, it would significantly change American society in ways that aren't wholly predictable.
Most Americans accept that something needs to be done about the rising cost of health care.  Added to that is a sense of some degree of unfairness, given that an estimated 40 million or more people do not have health insurance. 
To some people, it seems obvious that the government should regulate more and, in the most extreme view, serve as the single payer for health care, replacing other sources of health care funding.  To others, government at all levels should not be involved in health care beyond regulating the safety of drugs and licensing medical professionals.  To them, the free market seems best, with people paying for their own health care with employer-provided insurance, privately-funded insurance, or payment out-of-pocket.
As usual, neither side has a completely workable answer.  The issue of health care reform is further complicated by many related problems, and politicians and citizens alike can't agree on how to deal with them.
The Obama Administration and the Democratic majority in Congress want to rush through a health care reform bill by the end of the year.  This serves the dual goal of securing an apparent early victory for the President on a major program, and it avoids repeating the lengthy and ultimately disastrous process employed by President Clinton early in his tenure, when his wife spearheaded the health care initiative.  One thing that was learned then was that the more people knew about what was actually planned, the less likely they were to support it.
I don't think Congress should allow itself to be rushed on health care reform.  We would likely end up with something like the huge stimulus bill of a few months ago, when virtually no member of Congress even read the bill before it was passed.  Passing health care reform in that manner would be even worse, given the long-term implications.
In my opinion, the federal government must meet its current obligations to citizens before it undertakes huge new obligations.  These obviously include Social Security and Medicare, which people spent their working lives contributing to.  Medicaid should also continue to provide medical care for those who are uninsured or don't otherwise have reasonable access to care. 
However, these programs should be more closely monitored to prevent fraud and abuse, and they should be fine-tuned to reduce costs where possible.  Examples include increasing the total income cap on payroll taxes, minor changes to eligibility ages, a review of and adjustments to the prescription drug program, and closer verification of need for Medicaid.  After all that has been done — huge tasks in themselves — we can build comprehensive health care reform on the base of existing programs.  In any case, we have to pay the costs.  If that means higher taxes — perhaps much higher — then so be it.  If we don't want to pay, we shouldn't play. 
Following are some thoughts from others.  You'll note that there's no disagreement that something has to be done.  The emphasis is on how it's going to be paid for and what, exactly, is going to be "reformed."
In Wrong Way on Health 'Reform', economist Robert J. Samuelson said:
It's hard to know whether President Obama's health-care "reform" is naive, hypocritical or simply dishonest. Probably all three. The president keeps saying it's imperative to control runaway health spending. He's right. The trouble is that what's being promoted as health-care "reform" almost certainly won't suppress spending and, quite probably, will do the opposite.

A new report from Obama's own Council of Economic Advisers shows why controlling health costs is so important. Since 1975, annual health spending per person, adjusted for inflation, has grown 2.1 percentage points faster than overall economic growth per person. …

The message in these dismal figures is that uncontrolled health spending is almost single-handedly determining national priorities. It's reducing discretionary income, raising taxes, widening budget deficits and squeezing other government programs. Worse, much medical spending is wasted, the CEA report says. It doesn't improve Americans' health; some care is unneeded or ineffective. …

The central cause of runaway health spending is clear. Hospitals and doctors are paid mostly on a fee-for-service basis and reimbursed by insurance, either private or governmental. The open-ended payment system encourages doctors and hospitals to provide more services — and patients to expect them. It also favors new medical technologies, which are made profitable by heavy use. Unfortunately, what pleases providers and patients individually hurts the nation as a whole.

That's the crux of the health-care dilemma, and Obama hasn't confronted it. His emphasis on controlling costs is cosmetic. The main aim of health-care "reform" being fashioned in Congress is to provide insurance to most of the 46 million uncovered Americans. This is popular and seems the moral thing to do. After all, hardly anyone wants to be without insurance. But the extra coverage might actually worsen the spending problem.

How much healthier today's uninsured would be with that coverage is unclear. They already receive health care — $116 billion worth in 2008, estimates Families USA, an advocacy group. Some is paid by the uninsured themselves (37 percent), some by government and charities (26 percent). The remaining "uncompensated care" is either absorbed by doctors and hospitals or shifted to higher private insurance premiums. Some uninsured would benefit from coverage, but others wouldn't. Either they're healthy (40 percent are between ages 18 and 34) or would get ineffective care.

The one certain consequence of expanding insurance coverage is that it would raise spending. When people have insurance, they use more health services. That's one reason Obama's campaign proposal was estimated to cost $1.2 trillion over a decade (the other reason is that the federal government would pick up some costs now paid by others). Indeed, the higher demand for health care might raise costs across the board, increasing both government spending and private premiums.
In The Trillion Dollar Question: Who Pays for Health Care Reform? at Politics Daily, Patricia Murphy highlighted the question of who is going to pay for health care reform:
Republicans made clear this morning that the single biggest obstacle to passing President Obama's health care reform will be the question of who will pay for it. Before Sen. Chris Dodd (D-Conn.) could even begin the meeting of the Senate Health, Education and Labor Committee, several Republicans objected to holding the mark-up session at all.

"This is the most incredible process I've ever been a part of," said Sen. John McCain (R-Ariz.). Pointing to a draft of the bill, he said, "It is a joke if we run through this stack of papers without having some provision, and I suggest we postpone until we have some provision as to how to pay for it." …

Sen. Judd Gregg (R-N.H.) [said], "Three of the key parts that will drive the cost of this bill are blank, intentionally. How do you mark up a bill, when you don't know how much it costs, and when you're concerned about costs?"

The backdrop for the heated words was a bleak letter last week from the Congressional Budget Office to the Senate Budget Committee, stating that the federal budget is on an unsustainable path, and estimating that the health care reform bill that the committee is debating will cost more than $1 trillion over 10 years. The CBO also said the bill will change nothing for two-thirds of the Americans who lack insurance today. White House officials later explained that the public-option insurance program, the most expensive part of the plan, had not been included in the estimate.

So who will pay for health care reform? In the same letter from the CBO, the director recommended "increased cost-sharing by patients," and said that nearly all analysts agree that not taxing employees' health care benefits "dampens incentives for cost control."
Finally, in The Death and Life of Health 'Reform', Holman W. Jenkins, Jr., went on a flight of fancy into the future and looked at how the health care reform process might have worked out.  Instead of massive federal spending of taxpayers' money on priorities determined by politicians and bureaucrats, a flat tax replaced the current income tax, and employer-provided health insurance was taxed as income.  Consumers changed their behavior, and the health care market changed with them.  It all worked out — and most important, President Obama got the credit.
Articles written by Tom Carter
Tags: health care reform, Obama
Categories: Economics, News, Politics | Comments (1) | Home
Leave a Comment
(To avoid spam, comments with three or more links will be held for moderation and approval.)