June 5th, 2009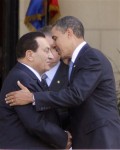 President Obama's Cairo speech to the Muslim world on June 4 represents a new direction in American foreign policy, but it won't make much difference in practical terms.  As Obama said, "No single speech can eradicate years of mistrust."
The New York Times published a full transcript of the speech.  As I read it, I found powerful statements about America's role in the world and its relationship to other countries.  The President also made important statements that needed to be made, including a strong statement against Holocaust denial.  However, he said other things that I found troubling.
Journalist, editorial writers, and pundits have evaluated the speech in different ways, as might be expected.  Liberals and Democrats thought it was great, and conservatives and Republicans were critical.  That's to be expected; for most of these people, ideology trumps all.  The best approach is to read the speech for yourself and make your own judgments.
I pulled a few quotes from the speech that gave me pause, or at least made me wonder what his intentions are.  In a few cases, his statements are regretable.
Violent extremists have exploited … tensions in a small but potent minority of Muslims. The attacks of September 11th, 2001 and the continued efforts of these extremists to engage in violence against civilians has led some in my country to view Islam as inevitably hostile not only to America and Western countries, but also to human rights. This has bred more fear and mistrust.

So long as our relationship is defined by our differences, we will empower those who sow hatred rather than peace, and who promote conflict rather than the cooperation that can help all of our people achieve justice and prosperity. This cycle of suspicion and discord must end. …
It seems that the appropriate word, "terrorists," has been banned and replaced by the less appropriate and less accurate word "extremists."  So not only have we dispensed with the war on terrorism, we've decided that repeated terrorist attacks on U.S. soil and U.S. interests abroad aren't really terrorism after all. 
It also appears that Americans' view of Islam as inevitably hostile has "bred more fear and distrust."  Funny how that works — we view the terrorists who attack us and the religion that is their motivation negatively, and that makes them fear and mistrust us.  So what are we supposed to do, bow down before them and invite them to sing Kumbaya with us?
…just as America can never tolerate violence by extremists, we must never alter our principles. 9/11 was an enormous trauma to our country. The fear and anger that it provoked was understandable, but in some cases, it led us to act contrary to our ideals. We are taking concrete actions to change course. I have unequivocally prohibited the use of torture by the United States, and I have ordered the prison at Guantanamo Bay closed by early next year. …
I guess he means that we're really, really sorry we reacted strongly against those who have repeatedly carried out acts of terrorism against us, including killing thousands of our citizens.  We shouldn't have treated a few prisoners harshly to gain information from them about future attacks, and we shouldn't have held them in a modern prison that's better than most prisons in the U.S.  Of course, Muslim terrorists will continue brutally mistreating their prisoners and abductees, to including beheading them, as they always have.
Around the world, the Jewish people were persecuted for centuries, and anti-Semitism in Europe culminated in an unprecedented Holocaust. Tomorrow, I will visit Buchenwald, which was part of a network of camps where Jews were enslaved, tortured, shot and gassed to death by the Third Reich. Six million Jews were killed — more than the entire Jewish population of Israel today. Denying that fact is baseless, ignorant, and hateful. Threatening Israel with destruction — or repeating vile stereotypes about Jews — is deeply wrong, and only serves to evoke in the minds of Israelis this most painful of memories while preventing the peace that the people of this region deserve.

On the other hand, it is also undeniable that the Palestinian people — Muslims and Christians — have suffered in pursuit of a homeland. For more than sixty years they have endured the pain of dislocation. Many wait in refugee camps in the West Bank, Gaza, and neighboring lands for a life of peace and security that they have never been able to lead. They endure the daily humiliations — large and small — that come with occupation. So let there be no doubt: the situation for the Palestinian people is intolerable. America will not turn our backs on the legitimate Palestinian aspiration for dignity, opportunity, and a state of their own. …

Palestinians must abandon violence. Resistance through violence and killing is wrong and does not succeed. For centuries, black people in America suffered the lash of the whip as slaves and the humiliation of segregation. But it was not violence that won full and equal rights. It was a peaceful and determined insistence upon the ideals at the center of America's founding. This same story can be told by people from South Africa to South Asia; from Eastern Europe to Indonesia. It's a story with a simple truth: that violence is a dead end. It is a sign of neither courage nor power to shoot rockets at sleeping children, or to blow up old women on a bus. That is not how moral authority is claimed; that is how it is surrendered. …

At the same time, Israelis must acknowledge that just as Israel's right to exist cannot be denied, neither can Palestine's. The United States does not accept the legitimacy of continued Israeli settlements. This construction violates previous agreements and undermines efforts to achieve peace. It is time for these settlements to stop. …

The Arab-Israeli conflict should no longer be used to distract the people of Arab nations from other problems. Instead, it must be a cause for action to help the Palestinian people develop the institutions that will sustain their state; to recognize Israel's legitimacy; and to choose progress over a self-defeating focus on the past. …
Denial of the Holocaust is certainly "baseless, ignorant, and hateful," and I'm pleased that the President made such a forceful statement.  But, given that a very large percentage of Muslims, probably a majority among Arabs, do deny that the Holocaust happened, or that it happened in any significant way, and given that there's no likelihood that they're going to change that view, Obama is pretty much wasting his time on this one.
Palestinians have been waiting in "refugee" camps for 60 years because they won't give up their hope that Israel will be destroyed, and Arab nations have done next to nothing to help or encourage them to move on in life because they use the Palestinians to serve political purposes.  It's simply naive to think that Arab nations are going to stop using the plight of the Palestinians and the Arab-Israeli conflict "to distract their people from other problems."
Despite the President's words, the Palestinians aren't going to stop attacking Israel, and Israel isn't going to stop defending itself.  Israel will accept a two-state solution, providing they can have some reasonable assurance of living in peace and security.  But that's not likely to happen.  The Palestinians have turned down the offer of statehood on excellent conditions a number of times, beginning in 1947.  The truth is, and the President should know this, the Palestinians' goal is not to live in a separate state side-by-side with Israel.  
America does not presume to know what is best for everyone, just as we would not presume to pick the outcome of a peaceful election. But I do have an unyielding belief that all people yearn for certain things: the ability to speak your mind and have a say in how you are governed; confidence in the rule of law and the equal administration of justice; government that is transparent and doesn't steal from the people; the freedom to live as you choose. Those are not just American ideas, they are human rights, and that is why we will support them everywhere. …

Likewise, it is important for Western countries to avoid impeding Muslim citizens from practicing religion as they see fit — for instance, by dictating what clothes a Muslim woman should wear. We cannot disguise hostility towards any religion behind the pretence of liberalism. …
Here's the President as Pollyanna, with his "unyielding belief" that everyone wants what so few nations have been able to realize.  Although I'm sure Obama would choke on the term, those values are at the core of American exceptionalism.  The reason it's exceptional is because it's so hard to achieve, and many peoples will never achieve it.  It's also interesting that Obama is channeling George Bush, after having apologized to a foreign audience for the actions of his country under Bush.
I guess Obama wants to follow Britain, France, the Netherlands, et al. in their acceptance of dhimmitude.  Does he want to allow Muslims in the U.S. to live under sharia law and sharia courts without regard to U.S. law, as many Muslims want and some have achieved in Europe?  Will he stand by, wrapped in fraudulent moral equivalence, as Muslim women are whipped or stoned or perhaps even beheaded for minor social transgressions?  Or, on a more trivial level, is he going to support the demand of some Muslim women to have drivers' license and other ID photos taken with their faces completely covered?  This is what he's talking about in practice, and he should know better.
Obama's attitude toward Israel is particularly troubling.  Charles Krauthammer made the point in a column on June 5, The Settlements Myth:
President Obama repeatedly insists that American foreign policy be conducted with modesty and humility. Above all, there will be no more "dictating" to other countries. … An admirable sentiment. It applies to everyone — Iran, Russia, Cuba, Syria, even Venezuela. Except Israel. Israel is ordered to freeze all settlement activity. As Secretary of State Hillary Clinton imperiously explained the diktat: "a stop to settlements — not some settlements, not outposts, not natural-growth exceptions."
I've said before and I'll say again — I think President Obama is a highly intelligent man with good intentions, and I hope he's a successful president.  However, his naivete and inexperience in foreign policy are dangerous.  He needs to learn how the world really works, despite the demands of his leftist supporters, and he has to operate within that reality.  Paying lip service to America's historic and essential support of Israel while constructing moral equivalence out of thin air and cozying up to the Muslim world can have disastrous consequences.
Articles written by Tom Carter
Tags: Add new tag, Arab, Israel, Middle East, Muslim, Obama
Categories: History, News, Politics | Comments (19) | Home
Leave a Comment
(To avoid spam, comments with three or more links will be held for moderation and approval.)