June 28th, 2009
Why has America been so extraordinarily successful, politically and economically?
The political answer is easy — freedom and strenuously defended individual rights.  Americans sometimes fall prey to pathological navel-gazing, so closely focused on the cracks and flaws in our system that they can see nothing more.  All it takes is to look up to the horizon and examine the political systems of all other countries.  In terms of freedom and rights, a mere handful can compare to America; all the rest range from deficient but acceptable to downright abysmal.
But what about our unmatched and evidently unmatchable economic prosperity?  Individual freedom and rights are obviously a factor.  More important, though, is the political, cultural, and financial atmosphere that encourages and rewards invention, innovation, and creativity.  It's hard to define precisely, but the proof is in the many brilliant people who have flowered in America either as immigrants of choice or refugees.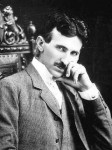 One example:  Nikola Tesla is "often described as the most important scientist and inventor of the modern age, a man who 'shed light over the face of Earth.' He is best known for many revolutionary contributions in the field of electricity and magnetism in the late 19th and early 20th centuries."  Tesla, an ethnic Serb highly honored in Serbia and the Balkans, needed the creative atmosphere and rough-and-tumble American financial environment to permit his creativity to reach its full potential.  His achievements not only resulted in major scientific advances; they were of great benefit to America and its economic prosperity.
Tom Friedman makes the point in Invent, Invent, Invent in The New York Times:
…the country that uses this [economic] crisis to make its population smarter and more innovative — and endows its people with more tools and basic research to invent new goods and services — is the one that will not just survive but thrive down the road.

We might be able to stimulate our way back to stability, but we can only invent our way back to prosperity. We need everyone at every level to get smarter.

I still believe that America, with its unrivaled freedoms, venture capital industry, research universities and openness to new immigrants has the best assets to be taking advantage of this moment — to out-innovate our competition. But we should be pressing these advantages to the max right now. …

We should be taking advantage. Now is when we should be stapling a green card to the diploma of any foreign student who earns an advanced degree at any U.S. university, and we should be ending all H-1B visa restrictions on knowledge workers who want to come here. They would invent many more jobs than they would supplant. The world's best brains are on sale. Let's buy more!

[Craig Barrett, the former chairman of Intel] argues that we should also use this crisis to: 1) require every state to benchmark their education standards against the best in the world, not the state next door; 2) double the budgets for basic scientific research at the National Science Foundation, the Department of Energy and the National Institute of Standards and Technology; 3) lower the corporate tax rate; 4) revamp Sarbanes-Oxley so that it is easier to start a small business; 5) find a cost-effective way to extend health care to every American.

We need to do all we can now to get more brains connected to more capital to spawn more new companies faster. As Jeff Immelt, the chief of General Electric, put it in a speech on Friday, this moment is "an opportunity to turn financial adversity into national advantage, to launch innovations of lasting value to our country."
Friedman compares the potential American reaction to the economic crisis with that of Russia and China, neither of which has the political, cultural, or financial environment necessary to promote the kind of innovation and creativity that leads to extraordinary prosperity.  I think he's got it right.
Articles written by Tom Carter
Tags: creativity, economy, prosperity
Categories: Economics, Politics | Comments (8) | Home
Leave a Comment
(To avoid spam, comments with three or more links will be held for moderation and approval.)