June 24th, 2009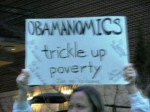 On the way home from work tonight, I heard two lady callers to the Dennis Miller show express similar sentiments: North Korea, Iran, and Al Qaeda are all potential threats to the United States, but our biggest threat is President Obama because he is in a position to do catastrophic damage to the United States. The Dennis Miller show is, of course, not a bastion of liberal thought, but until very recently, Dennis Miller said tonight, he made a huge effort to give Obama the benefit of the doubt. However, recent events are starting to change his perceptions. That's apparently true for the majority of Americans.
Some factoids from a recent Rasmussen poll reveal that:
— Most voters (54%, down from 62% less than a month ago) blame Bush's economic mismanagement for the current crisis, but more and more of them are starting to shift the blame to the Obama administration (39%, up from 27% a month ago).
— In early February, 39% of voters trusted the president's economic judgement more than their own; now that percentage is down to 30%).
— Earlier this month, when Obama announced his intention to speed up the stimulus spending, Rasmussen polls showed that 45% of voters thought the rest of the stimulus spending should be cancelled.
— 51% of voters want to see an across-the-board tax decrease for all Americans.
Oh, Yeah! The honeymoon is definitely over. Perhaps, just perhaps, the majority of Americans are starting to wise up to the fact that Obama is chasing some personal dream of some imagined Utopia and practicing the worst kind of mule-headed partisan politics to push us over the brink, rather than using his brilliance, his charisma, and his popularity (while he still has it) to bring this country back from that brink.
Articles written by Harvey Grund
Tags: economy, Obama, Obamanomics
Categories: Economics, Politics | Comments (3) | Home
Leave a Comment
(To avoid spam, comments with three or more links will be held for moderation and approval.)