July 5th, 2009
Eugene Volokh stated in an article on July 3:
Congress is once again considering a constitutional amendment to ban the desecration of the American flag. The proposal, introduced this spring in the Senate by David Vitter (R., La.), and cosponsored by 20 other Republicans and Democrat Debbie Stabenow of Michigan, probably won't get enough votes. Yet even if it doesn't, one longstanding misunderstanding about the First Amendment is likely to live on. …

From the late 1700s on, American law has recognized symbolic expression and verbal expression as legally and constitutionally equivalent. "Speech" and "press" in the First Amendment don't just apply to words or printed materials. The First Amendment protects symbols, paintings, handwriting and, yes, flag burning.
It's always been clear that the First Amendment protects all manner of speech and expression, to include symbolic expression.  In fact, if that were not the accepted view, a constitutional amendment to ban flag burning would not be necessary.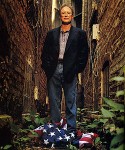 There's no doubt that some views are particularly odious, as are some people.  One of the best examples is Bill Ayers, shown in this photo expressing his disdain for America by trampling the American flag into the dirt.  People like Ayers are intelligent but ignorant, seemingly clueless that such behavior in many other countries would land him in jail, at the very least. 
I'm proud that in America people like Ayers, vile as he may be, can think, speak, write, and symbolically express himself in any way he wishes without fear of retribution from the state.
Amending the Constitution to ban flag burning is a mistake because it limits freedom of speech and expression and it opens the door to other restrictions in the future.  What will be next — amendments to outlaw certain kinds of organizations, such as neo-Nazi groups, Communist groups, and racist groups?  Prohibitions on speaking and writing if certain individuals or groups might be offended?  Once bans, prohibitions, and restrictions on speech and expression become tolerable, the big question will be, "Who gets to decide what's banned?"
Freedom of speech must be nearly absolute, limited only in specific cases where others are endangered.  Current law and court precedents provide for those few limits.  Beyond that, freedom of speech and expression must accommodate the most offensive examples imaginable.
People can burn or trample the flag as much as they wish.  We're strong enough as a nation to tolerate that kind of oafish behavior.
Articles written by Tom Carter
Tags: flag burning, freedom of speech
Categories: News, Politics | Comments (7) | Home
Leave a Comment
(To avoid spam, comments with three or more links will be held for moderation and approval.)