July 11th, 2009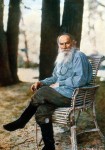 Sergey Mikhailovich Prokudin-Gorsky was a Russian photographer who began a remarkable project in 1909.  His goal was to record the huge, sprawling Russian empire in full color photographs.  Prokudin-Gorsky was supported and funded by Tsar Nicholas II, whose support included a railroad car with a darkroom and permits that allowed access to all parts of the empire.
This remarkable photograph (click to enlarge) of the author Leo Tolstoy is an example of Prokudin-Gorsky's early work.  It was taken in 1908, two years before Tolstoy's death, and is the only color photograph ever taken of him.
Color photography wasn't entirely new in 1909.  The first known color photograph was made in 1861, but it still involved a difficult, complicated chemical process.  In addition to the volume of photographs and their unique settings, Prokudin-Gorsky's work was of exceptionally high quality.
The Incredible Century-Old Color Photography of Prokudin-Gorsky is a fascinating article on Prokudin-Gorsky, including numerous superb color photographs of people and places in various parts of the old Russian empire.
Articles written by Tom Carter
Tags: photography, Prokudin-Gorsky, Tolstoy
Categories: Arts, History | Comments (1) | Home
Leave a Comment
(To avoid spam, comments with three or more links will be held for moderation and approval.)