August 25th, 2009
Madonna brought her "Sticky and Sweet" tour to Belgrade last night.  According to local press reports (here and here), there were about 30,000 people in attendance.  I was there, too, along with Andrea, a close friend of Cat and an occasional contributor to Opinion Forum.
The concert venue was in a park beside the Danube River where most concerts like this are held.  For those addicted to Google Earth, the coordinates of the stage location are 44 49 11 N 20 26 07 E. Cut and paste that to the search box, and you'll fly right on over.  The stage faced to the Northwest, where we of the worshipful masses were assembled.  The concert was a little less than a mile down the river from where I live, so we walked.
According to the promoters' website, things were supposed to begin with a British DJ named Paul Oakenfold playing music at 7:00 pm.  Then Madonna was supposed to show up at 9:00.  She didn't, of course.  For that matter, he didn't either.
At 8:00, finally, there was a booming introduction of Paul Oakenfold. He was billed as a world famous DJ, but we had never heard of him. He came out and went behind some kind of large console with lights on the front of it, and started playing loud, extremely thoompa-thoompa music. His woofers must have been the size of Winnebagoes.  Everything vibrated, including the cups of beer in our hands and the aluminum bleachers our plastic seats were bolted to.  Cat, who stayed home to guard his catfood supply, certainly heard it, and I'm sure he wasn't pleased.
Paul Oakenfold turned on the music, danced around beside his console a few times, stuck his hands up in the air now and then.  I always wonder how people become famous by doing something any fool can do.  (Paris Hilton, anyone?)
Madonna showed up at about 10:10, exercising her superstar prerogative of making 30,000 people wait over an hour while she did whatever else she was doing that was more important.  According to a report, when concert organizers were asked why she was so late, the answer was, "Madonna wanted to additionally heat up the atmosphere and make the audience wait for her performance with even greater impatience."
From what we saw, there was certainly impatience, evidenced by a few outbreaks of whistling and hooting.  But then she pranced out on stage, and all was forgiven.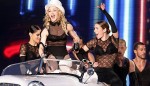 The show was overwhelmingly technical, with lasers, lights, and two large TV screens on either side of the stage.  Elaborately choreographed with numerous dancers, complicated scene changes, and impressive costumes, the show seemed to go flawlessly.  Madonna, often singing with herself on recorded tracks, did all the Madonna things — athletic dancing; sharing the spotlight with other dancers, musicians, and singers now and then; and, of course, kissing another woman.
I didn't recognize most of the songs, partly because they were from the new album the tour is promoting and partly because of my own ignorance.  What I was really waiting for, though, was "Like a Virgin." 
We paid the big bucks — or in this case, the big dinars — for seating in the so-called VIP section.  We did that to avoid standing in a giant mob for at least four hours, to gain unrestricted line-of-sight to the stage, and to be closer and see better.  I guess two out of three ain't bad.  The pricey seats were about 100 meters from the stage, making Madonna look about two inches tall.  We knew there was a blond cavorting around over there, but we had to watch the grainy TV screen to see what was going on.  It occurred to me that I could have watched Madonna videos at home with cheaper beer and in a lot more comfort, but I don't do that anyway, which is probably why I didn't know most of the songs.  Besides, I would have missed the porta-potty experience.
Anyone who's been to a big event has had the porta-potty experience.  This wasn't as bad as I've seen it other places, mostly because our section had its own facilities behind the bleachers and there wasn't any waiting in line.  But they were pretty typical — fiberglass shells, very smelly, very dark on the inside except for a little light that trickled in through vents at the top.  That was good, though, because you couldn't see the mess and, in particular, it was too dark to see inside the hole.  The weirdest part was the fiberglass shell reverberating and quivering in time with the thoompa-thoompa of the Winnebago woofers.
Madonna looked pretty much like Madonna.  Her hair was long and greasy looking, like maybe she needed to wash it.  Or maybe that was just a style, and I'm too dumb to know it.  She also had odd looking bangs, when she wasn't wearing a hat or cap of some kind.  When the costume permitted, you could see the red string around her left wrist to ward off the evil eye. 
The red string comes from her belief in Kabbalah, or at least the cult-like version promoted by the Kabbalah Centre in Los Angeles.  The principles of Kabbalah, ancient Jewish mysticism, are far more complex and obscure than the celebrity version Madonna adheres to.  It's logical parallel might be a hip-hop version of the Talmud (which, thankfully, no would-be cultist entrepreneur has thought of, yet).
Anyway, the show went on for about an hour and a half, not the two hours stated in one press report.  We spent the last half-hour shivering because the weather turned unexpectedly cool as the evening wore on. 
All things considered, it was fun and we'd do it again.  I knew before the concert that whatever challenges we encountered, hearing Madonna sing "Like a Virgin" in person would make it all worthwhile.  But she didn't.
Articles written by Tom Carter
Tags: Belgrade, Madonna, Sweet and Sticky
Categories: Arts, Humor, Life, News | Comments (7) | Home
Leave a Comment
(To avoid spam, comments with three or more links will be held for moderation and approval.)