August 28th, 2009
Apparently many of you remember things from your childhood that are very similar to what I experienced. It might be fun to stir your memories some more.
I've mentioned already the fact that electric power was slow getting to our neck of the woods. The house where my family lived was hooked up in the spring of 1947. One 30 amp circuit fed the entire house. The National Electric Code was practically non-existent. If you blew a fuse, no problem, just stick a penny under the fuse and screw it down tight. Thank God, not many places burned down for a penny.
People around my home town got to calling electricity "juice", a name that still survives among the old timers even today. Well, juice was here to stay. It was terribly expensive, with some bills running nearly a dollar a month. There was a conscious effort to save by making sure that all lights were turned off when not in use.
Radios were a natural for a first electrical appliance. Up until then everyone including my dad owned the old battery-operated radio receivers. My dad owned an old Philco that he'd had for as long as I could remember. No one else ever touched or used it except him. It was one of those rules you never questioned. My mom once got in trouble when she forgot to turn off a radio that my Uncle Jim owned. Killed the "A" battery. My uncle made a big issue of the whole thing. My mom avoided any contact with any radio for a very long time after the dead battery ordeal.
Yes sir, radios went large and everyone who could afford to upgraded. Sides Furniture in Carbon Hill stocked up on the big floor models that up until now wouldn't work down on the back-country farms. We didn't have the extra money for a new RCA or Kent-Atwater, but my dad managed to come up with a battery replacement converter that worked off 120 volt alternating current.
My dad loosened his hold on the radio and we played the hell outta that sucker. My mom started listening to hillbilly music in the morning until time to tune into the soap opera, Stella Dallas. My dad would listen to Lowell Thomas and Edward R. Murrow (I think). On weekend nights Dad stayed up late so he could listen to stations in Nashville and Cincinnati that played R&B music by people like BB King, Howling Wolf, and Junior Walker.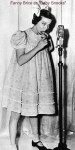 Friday and Saturday nights also showcased programs such as Amos & Andy, The Life of Riley, and The Lone Ranger. How about The Great Gildersleeve, Fibber McGee and Molly, The Green Hornet, The Shadow, The Jack Benny Program — the list goes on. My all time favorite was The Baby Snooks Show (the photo at left shows Fanny Brice as "Baby Snooks").
Keep in mind that all these radio shows left room for your imagination to work magic that even today's television and movies can't equal. Cold winter nights were made for radio. Everyone gathered around the radio in the livingroom, a good fire going in the heater or fireplace. The whole family together at one time in one place — a crazy idea but it might just work!
During this period in my life radio was beginning to really interest me. The very idea that I was able to hear the sound of people's voices that were many miles away amazed me. Radios of that period had outside antennas, usually a long piece of copper wire up as high as possible. For many people, good antennas became an obsession. The better the antenna the better the signal reception. My dad's little table model Philco only received AM with no shortwave. The antenna was strictly run-of-the-mill.
I discovered if I tuned all the way up past 1600 kilohertz I could hear people talking. The signals always came up as the night progressed. On nights when no one needed the radio I could sit and listen for hours. Later in life I would learn that I'd been listening to the 160 meter amateur radio band. My granddad bought a huge floor model radio called a Gruno-Majestic. It had all the bells and whistles, most important being the full shortwave coverage. With this radio I could, in my mind, go anywhere. It was like an electronic magic carpet.
My dad never did get one of the big floor models when they were all the rage. Probably would have remained that way had it not been for me. Along about Christmas of 1956, an old lady who lived on my paper route asked if I'd like a nice radio. It had worked fine the last time her husband listened to the Detroit Tigers games. The old guy had passed away in April of that year. I called my dad and had him come over so if I took the radio he could haul it home in the back of his Ford truck.
The old radio turned out to be in mint condition. It was a Zenith and worked like a new one. We got it home and went over it with some furniture polish. It turned out to be a really beautiful piece of furniture. My dad really liked the old radio. I thought about his old Philco and decided to give him the Zenith. It still works and still sits where he last had it before he passed away.
On top of the old radio is a little red box that contains an old Zippo lighter that I gave him that same year as a Chistmas gift. He carried that lighter until all the chrome wore off and the hinges came apart. I offered to send it to Zippo for repair, but he was afraid they would loose it. He said he would retire it instead. My mom has made sure it is always there.
Articles written by Larry Ennis
Tags: electric power, radio, shortwave
Categories: History, Life | Comments (0) | Home
Leave a Comment
(To avoid spam, comments with three or more links will be held for moderation and approval.)