September 27th, 2009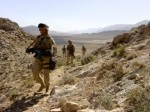 No Deadline Set for Decision on Troops by Bob Woodward in The Washington Post details the Administration's current review of strategy for the war in Afghanistan.  Afghan agony: More troops won't help by Ralph Peters in the New York Post presents a realistic alternative.
As Woodward reports, the Administration is considering whether to grant a request headed their way from our commander in Afghanistan.  In order to carry out the President's current strategy in Afghanistan, more troops are needed.  Without additional forces, it won't be possible to accomplish the current mission. 
Apparently suffering misgivings about his own strategy, and with increasing pressure from Democrats, Obama seems on the verge of taking the road less traveled — away from incremental involvement in an unwinnable military nation-building exercise in an the context of an intense insurgency.  If history teaches us anything, it ought to be that getting stuck tighter to the Afghanistan tarbaby is a serious mistake.
Ralph Peters, a retired Army officer, prolific author, and leading commentator on political and military affairs, is certainly no liberal.  He's also not anti-war and strongly supports the military and a strong national defense.  He favors taking the road toward reducing our military presence on the ground in Afghanistan and re-jiggering our strategy:
Gen. Stan McChrystal, an honorable soldier, has reported from Afghanistan: He wants more troops for a "classic" counterinsurgency strategy to secure the population, then win hearts and minds.

President Obama needs to make a decision: Either give the general the resources he believes he needs, or change the mission.

I'm for changing the mission. Concentrate on the continued destruction of al Qaeda and its allies. Nothing else matters in this mess.

Last spring, the president handed McChrystal an impossible mission: Turn Afghanistan into a prosperous, rule-of-law democracy cherished by its citizens. The general's doing his best. But we have zero chance — zero — of making that happen.
Peters is right.  We should reduce our force levels immediately and continue supporting the Kabul government diplomatically and with development assistance, to the extent we can.  The only forces left on the ground in Afghanistan should be those necessary to protect U.S. personnel and assets, along with certain special operations forces, as Peters explains.  Other applications of force should be from offshore, which would permit targeting of terrorists wherever they are.
If that means the corrupt government in Kabul falls, then it falls.  That's the same position we'll be in 10 years from now if we continue trying to fight a war against the Taliban.  Our focus should be on our real enemy — Al-Qaeda and any other terrorists in Pakistan or Afghanistan which present a threat to the U.S.
We're at a serious crossroads now in the evolution of the war in Afghanistan.  If we go the wrong way, it's virtually inevitable that many American soldiers will die and billions of dollars will be wasted in a fruitless endeavor.
Articles written by Tom Carter
Tags: Afghanistan, Democrats, Obama, strategy, terrorism
Categories: Military, News, Politics | Comments (6) | Home
Leave a Comment
(To avoid spam, comments with three or more links will be held for moderation and approval.)