September 3rd, 2009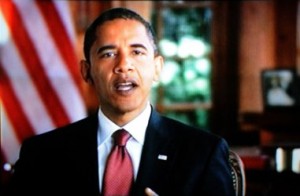 After reading the previous article by Amber I was put in mind of the innocence of our kids and the ease with which they are impressed and influenced by adults.
We should always be on guard against those who will take advantage of our children and hence our future. I'm of the strong conviction that childhood is a very special if not sacred time in everyone's life. It's also a time when young minds can be made to embrace radical ideas that would later in adult life fall victim to common sense.
The tactic of the Obama Administration to address the nation's school children in a captive audience format so as to push a political agenda is morally wrong and represents what amounts to brainwashing the entire youth population of our nation. My reference to the moral aspects is because this form of brainwashing is nothing short of mental assault. The President will be forcing his ideas on every school kid who is required to sit and watch his Big Brother television broadcast.
Of course, some among us will argue to the contrary; they always do.
This President gets farther from our form of government with each passing day. Thankfully, it appears that more people are seeing him and his czars for who they really are. For those of you still undecided, please look at the backgrounds of these Obamanites. All are either 60's and 70's anti-American radicals or Chicago-made politicians or both, and none of them have the ability to lead this country anywhere but down.
Articles written by Larry Ennis
Tags: brainwashing, children, Obama, school
Categories: Life, News, Politics | Comments (20) | Home
Leave a Comment
(To avoid spam, comments with three or more links will be held for moderation and approval.)