September 1st, 2009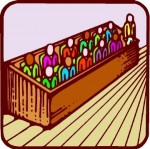 That's a bold thing for anyone to say, especially someone who used to be a peace officer, but I'll repeat it:  you are above the law. I do not mean to say that you are free to injure people, far from it.  What I mean is that you are above the law when you sit in a jury box.
If you have ever sat in on a trial, you have probably heard a judge issue instructions to the jury that include something along of the lines of "you are to sit in judgment of the facts of the case only…."  To be blunt, this is not true.  I'd love to impeach every judge in this republic who has uttered that or a similar statement, but we'd probably be out of judges in pretty short order if we did.  Defense attorneys know what jury nullification is, as do prosecutors and judges.  And they (the defense attorneys) are regularly warned not to mention it in voire dire or within the trial itself, under threat of contempt of court.
The fact is, though, that as a juror, it is absolutely within your scope of power to not only sit in judgment of the facts of the case, but to sit in judgment of the law itself.  Without resorting to violence, it is your only real check on an abusive government that promulgates unjust law.  Jury nullification, which is what this activity is called, has existed under the English Common Law since the Magna Carta was signed (almost 1000 years ago).  For those who are not aware, our legal system is rooted in English Common Law, and we inherited much of it with the ratification of the Constitution.
As an activity within the legal system, the tradition of jury nullification has been practiced here from the very beginning.  The whole purpose of having a right to trial by a jury of our peers (the 6th amendment guarantees it) is so that we can be free of a potentially corrupt government official (the judge), at least insofar as determination of guilt is concerned.  Jury nullification was regularly used in the years leading up to the Civil War to acquit defendants in cases of harboring or aiding runaway slaves.  It was also used regularly during the days of prohibition.
You, as a juror, have every right to vote your conscience.  If you believe that an ordinarily good law is being misapplied in your particular case as a juror, or if you believe that the law itself is repugnant, you are under neither legal nor moral obligation to vote "guilty," even if the defendant has done everything and more that the prosecution has alleged that he did.  To the contrary, you are obliged to vote "not guilty."
Several years ago, I was summoned for jury duty on a case where the defendant was being tried for failing to report an address change as a sex offender, a felony which could have sent the defendant back to prison for life.  I had not been a police officer for 5 or 6 years, but the defense attorney, having learned of my background, used a peremptory challenge and got rid of me anyway.  If she had bothered to learn about my views on this law rather than just making assumptions, she would probably have picked me first.
This defendant had served out his prison sentence some years earlier and was no longer on probation or parole.  In my opinion, he had served his time and was a free man.  Free men do not tell the police where they live or when they are moving.  This is a dangerous law and sets a dangerous precedent for the police to be able to know the whereabouts of anyone.  No, I would not want him living next door to my daughter and me, or down the street from a school or a park, but that is not the point.  If sex offenders represent such a threat to the public that the police need to keep tabs on them after they are released, then perhaps they should not have ever been released from prison in the first place.  If the original law (sexual assault) had been upheld and enforced as it should have been, we would never have gotten ourselves to the point where we might even have a disagreement over whether or not to send him back to prison simply for failing to report an address change.  In order to argue for this law, it seems to me that you must have arrived at the point where you have given up on the utility of the original law regarding sexual assault.
In Texas, as most states, sexual assault carries a minimum of two years and a maximum of life in prison.  Rather than locking someone away for not telling Big Brother his wherabouts, how about let's actually lock them up a long time for the original crime.  One may be inclined to ask "what's the difference if we can get them locked up one way or another?"  The difference is that one law is largely beyond abuse, and the other gets the camel's nose under the tent.  It would be one thing if this "tracking" law never increased in scope (I still would not agree with it), but governments have a nasty habit of assuming more and more power by whatever means available, and bad laws make it easier for the government to do so.
I'm reasonably certain that many readers are horrified at my position on this law, but I am also certain that many of you can find objectionable laws or objectionable applications of the law just as I do.  Exercise your RIGHT to jury nullification if you find yourself on a jury in such a circumstance.
For more information on jury nullification, I strongly urge you to check out The Fully Informed Juror's Association.
Articles written by Brian Bagent
Tags: juror, jury nullification, Law
Categories: History, Life, Politics | Comments (9) | Home
Leave a Comment
(To avoid spam, comments with three or more links will be held for moderation and approval.)