October 4th, 2009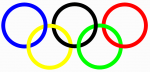 Chicago is probably better off for having lost their bid to host the Summer Olympics in 2016, at least in economic terms.  That's the case made by Stefan Szymanski in Myths About Landing the Olympics in The Washington Post.  Szymanski, a British professor who studies these sorts of things, notes that beginning with Los Angeles in 1984, no city has made a net profit from hosting the Olympics.  He goes on to list and discuss the five most common myths about hosting the Olympics.
The people of Chicago, according to polls, were about evenly divided on whether they wanted the Summer Olympics in their city.  The opponents may have had the better case.
Many critics have noted the corruption endemic in Chicago politics and the city's high crime rates, believing that hosting the Olympics in that environment would make matters worse and damage the reputation of the entire country.  However, Rio de Janeiro, which won the competition, is far worse than Chicago in terms of corruption and crime.  We'll see how it plays out down there, but at least we'll be able to watch from a distance.
Here are the myths Szymanski lists.  Read the article for his full discussion of each.
1. The Olympics will pay for themselves.  Nope, they never do. …

2. Winning the Games means a gold rush of jobs for the host city.  The truth is that the local economy doesn't get much of a boost while those shiny new athletic venues are being built. …

3. The Olympics will boost local tourism.  For most foreign visitors, attending the Olympics is a proposition that costs thousands of dollars. Demand is just not that great. …

4. Playing host to the Olympics changes the landscape of a city forever.  Maybe, but it's not a legacy worth much. …

5. The Olympics inspire greater participation in sports.  … It is true that many Olympic athletes were inspired by watching the Games, but most of these people had athletic talent to begin with. For everyone else, the effect is more likely to go in the opposite direction — the Olympics can reduce participation in sports. …
And Szymanski's conclusion:
Maybe it's for the best, though, that the Games don't actually inspire a generation of Olympic hopefuls and host-city boosters. As public debt continues to mount, the cost-effectiveness of hosting the Games will come under increasing scrutiny, and by 2020 the IOC might be struggling to find credible bidders.
Articles written by Tom Carter
Tags: Chicago, corruption, crime, Economics, Reo de Janeiro, Summer Olympics
Categories: Economics, News, Politics | Comments (2) | Home
Leave a Comment
(To avoid spam, comments with three or more links will be held for moderation and approval.)