October 15th, 2009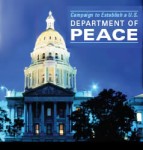 The former community activist who garnered a Nobel Peace Prize shortly after taking office as President of the United States should appreciate the grit of this civic campaign. Signing legislation that would cap this grassroots effort, moreover, is the sort of action that would likely generate a wall of peace awards for Barack Obama.
The campaign to create a U.S. Department of Peace is backed by the usual suspects, including Veterans For Peace and the Student Peace Alliance, but also by more mainstream supporters like country music singer Willie Nelson. A persistent voice for grassroots causes like Farm Aid, Nelson is a spokesman these days for a cause that's flared and sputtered and flared back up again throughout American history.
"I want to share with you why I feel this campaign to establish a U.S. Department of Peace is so important," Texas-bred Nelson says in a web site promo for a bill that seems perpetually stuck in some committee in Congress. "We have the opportunity to make violence prevention and peacemaking a central conversation in our culture right now. And there couldn't be a more urgent time to do so."
In Brooklyn, N.Y., community activist Howard Rosenberg is conveying the same message, urging the New York City Council to join Chicago, Los Angeles, Atlanta, Cleveland and other cities in calling for such federal action. "We have to engage the world as a community and open a dialogue," Rosenberg said, reported the New York Post. "Some say that's naive, but [Richard] Nixon went to China and he was the most conservative president in history."
In West Linn, Oregon, Councilman Mike Jones, a U.S. Naval Academy graduate, joined the unanimous vote last fall to support the Department of Peace bill, the fourth city in the state to do so. Addressing a delegation of high school students who requested municipal support of this campaign, Jones said "What you've started and are working on here should guide you through your lives," according to the local newspaper, The West Linn Tidings."It's not just the will, but the skill to make peace," Congressman Keith Ellison of Minnesota said of the proposed legislation's public education components. Ellison is among more than 70 co-sponsors of the Department of Peace bill, HR 808, reintroduced in February by Congressman Dennis Kucinich, who represents a Middle America district that includes the Polka Capital of Cleveland, Ohio—not to mention the Rock and Roll Hall of Fame. Versions of this bill, based on ideas going back to the founding of the country by rebels who revolted against the tyrannical behavior of the British army, have been kicking around Congress for decades. 
An earlier version flared hot in the 1980s, leading to creation of the U.S. Institute of Peace, which is celebrating its 25th anniversary this month. The federally funded peace institute is constructing a new headquarters that's rising on a corner of the Mall in Washington, D.C. overlooking the Vietnam, Korea and World War II memorials. Its mission is to sponsor research grants, books, pilot projects and conferences on nonviolent approaches to dealing with hot spots of violence.
For instance, last week "the U.S. Institute of Peace and the U.S. Army's Peacekeeping and Stability Operations Institute unveiled the first strategic 'doctrine' ever produced for civilian actors involved in peace operations. The 'Guiding Principles for Stabilization and Reconstruction' (S&R) is a practical roadmap for helping countries transition from violent conflict to peace." Why is this kind of document important? "Ad hoc, disorganized campaigns for peace have been the hallmark of past missions," said Amb. John Herbst, U.S. Department of State Coordinator for Reconstruction and Stabilization. "This two-year investigation into thousands of pages of documents written by dozens of agencies may help to mitigate the chaotic nature of these missions by finally putting into one place what we know."
The proposed peace department would have a cabinet-level seat next to the departments of state and defense. It would consolidate several existing programs that are now scattered around Washington. These include the U.S. Institute of Peace, the Peace Corps and the Office of the Under Secretary for Arms Control and International Security Affairs of the Department of State.
It would also create public education programs to address outbreaks of violence in American communities, as well as abroad. That dual emphasis is what attracted Willie Nelson's support, as well as that of a long list of civic organizations. "We see daily the tragic impact violence is having on the planet. And I feel heartened that so many practical solutions will be brought forth through a Department of Peace. There are many programs and practices that are already proving to be incredibly effective at reducing … gang violence, violence in our schools and our homes, as well as conflict around the world," Nelson said.
Walter Cronkite, the late retired CBS News anchor, offered a thought-provoking take on this idea in a newspaper opinion piece in 2004. "Wouldn't it have been an advantage in the run-up to the Iraq War to have had a cabinet officer whose department was responsible for training U.S. personnel in human rights, conflict resolution, reconstruction and the detailed planning necessary to restoring a durable peace; in short, to do what was so disastrously absent when our forces rolled into Baghdad?" Cronkite wrote.
Besides Iraq, which remains more a battle zone than a functional nation, a change in U.S. policy to a peace-building approach would go a long way in lowering violence levels in Afghanistan. After eight years of escalating warfare, the U.S. military is flailing down the same path of destruction as previous armies that found it impossible to tame Afghanistan's mountain tribes. And yet, as a little reading about the region shows, a peaceful visitor to these same parts has historically been warmly welcomed.
Creating a peace department would clearly demonstrate that Obama is developing a new plan for addressing increasingly unsustainable war policies.
For more information:
The Peace Alliance
The United States Institute of Peace
(This article was also posted at EarthAirWater.)
Articles written by Jan Barry
Tags: Afghanistan, Department of Peace, Iraq, USIP, Willie Nelson
Categories: Military, News, Politics | Comments (9) | Home
Leave a Comment
(To avoid spam, comments with three or more links will be held for moderation and approval.)