October 30th, 2009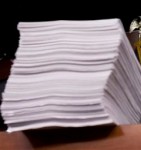 According to Politico, the House health care bill (left) now has 1,990 pages.  At an estimated cost of $894 billion, that's about $2.24 million per word.  (If you're a member of congress, of course, you'd probably point out that if it were half as long, it would cost twice as much per word.)
As the report notes, "It runs more pages than War and Peace, has nearly five times as many words as the Torah."  In printed form, the bill is a stack of paper about nine inches tall and weights 19 pounds.
But not to worry.  "Democrats say the essence of the bill isn't much different from the three sister bills they moved through committees this summer, which came in around 1,000 pages [each]. If you read those, they say, you pretty much know what's in this one."
Whew!  Now I feel better.  When they vote on this monstrosity in a week, at least they'll be able to remember what was in the other bills — if they read them.
Articles written by Tom Carter
Tags: bill, health care, legislation
Categories: Economics, News, Politics | Comments (2) | Home
Leave a Comment
(To avoid spam, comments with three or more links will be held for moderation and approval.)