October 22nd, 2009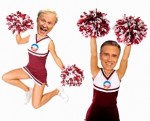 The race is on to carve out a place for a "hard left" talk show host to counter the Glenn Beck phenomenon. So far it's a rout as Beck rolls over the best the left has to offer. I expect to see the nasty brothers, James Carville and Paul Begala, show up in prime time if Beck continues to score night after night on Fox News.
As it stands so far the left is just shooting blanks. MSNBC recently aired the Ed Show. Ed's last name is Schultz, but so what. It's never gonna become a household word anyway. Watching him makes you wish that someone would do a show about a talking horse or something and call it the Mr. Ed Show. Every time the horse showed his behind in a scene, we could think of Ed the political talk show host.
We all recognize the name Chris Matthews. Chris. A self-proclaimed disciple of Obama, he is so wrapped up in his hero that he can no longer be taken seriously. After his proclamation of experiencing almost erotic feelings for Obama during the campaign, I'd be afraid to expect anything objective from the man.
Keith Olbermann is a caustic and venomous orator, but his television persona of a crybaby who picks his nose a lot just ruins the entire image. After seeing him I'd be more afraid that he'd hit me with his purse.
Bill Maher is a totally anti-God, anti-blue collar, anti-everything white-headed dwarf. Bill seems to seek some sort of redemption for his miserable life by being a little left-wing people eater. You might say he's a pint-sized version of Glenn Beck — minus the ratings, the talent, and the following
Rachel Maddow is a late-comer stuck in a bad time slot opposite Sean Hannity, which means she can stay home every night — who's going to miss her? I do enjoy her monotone delivery, though. Sort of like she's talking in her sleep.
Joy Behar is an effort by CNN to come up with a big gun in the left-wing attack-and-destroy arsenal. So far Joy has been more of a loose cannon than heavy artillery. Joy's claim to fame is talking dirty on a daytime network show called The View. She has proved herself in two areas — venom against Sarah Palin and graphic stories of her own sex life, neither of which is really of any concern to the majority of us. However, if Joy needs the work, let 'er rip, plus I like it when she foams at the mouth.
Looks like the only hope for the liberals is to keep looking for more talent or re-institute the so-called Fairness Doctrine. But won't that be a violation of the First Amendment?
Go get 'em, Glenn.
Articles written by Larry Ennis
Tags: cable TV, conservatives, fairness doctrine, liberals, talk radio
Categories: Humor, Media, Politics | Comments (10) | Home
Leave a Comment
(To avoid spam, comments with three or more links will be held for moderation and approval.)