October 31st, 2009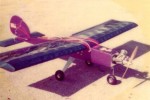 If you've been following my tales for any length of time, you already know that I've lived all over this great country. Most of my productive adult years were spent in or around Pontiac, Michigan. I liked it there, but as the movie title said, it's no place for old men (or women). Taxes, the high cost of living, and some bad and lawless people made retiring there impossible. When I arrived at this location in Tennessee, I had a pitbull named Jake, ten handguns, and a Louisville Slugger baseball bat — all for home defense.
Michigan wasn't all bad. I met and married the prettiest girl I'd ever seen. We had three good kids and a good life up north. I had a good-paying job with excellent benefits. With the good pay I was able to have and enjoy some neat and unique things. Because I've long been an aircraft lover and pilot, I started playing with remote control planes, which is a neat and, I admit, ego-stroking hobby. My strongest period was before the advent of ready-to-fly planes, so I, like everyone else, built what I flew. As is usually the case, other people with similar interests discover that they also work at the same place, which leads to friendships of the best sort. Such was the case with my friend Al.
Al Johnson was a prince of a guy. He was short and slim with a raspy, deep voice. A constant talker, his fellow workers labeled him "motor mouth." He was nonetheless a good friend to have around.
Al taught me the finer points of toy airplane flying, a skill much unlike the real thing. I figured with my hours as a pilot the models ought to be a snap. It wasn't so. The little devils have a habit of screwing themselves into terra firma if you make the slightest mistake.
Al showed up at the flying field one Saturday with what he claimed I needed for a trainer. From out of his truck camper came what even today is the ugliest radio controlled thing I'd laid eyes on. He smiled real big and said it was his old trainer, called a Debolt White Cloud. It was painted pink and black, no less. He said I needed something so stable even I couldn't screw it up. Well, we put her up and commenced to fly holes in the sky until it got too dark to see the ugly thing. What a rush it had been.
It was another month before Al and I had a Saturday off. My wife and kids had driven my mother-in-law to Missouri for a week, so I was free to hang out with Al at the flying field that weekend.
Al had been working on a large plane called a Telemaster. I can't recall the dimensions, but it was big. The thing was designed to pull cables across ravines and other impassable obstructions. The big thing was a pussycat in the air, so stable you'd have to crash on purpose. It all but flew itself.
We were flying around in big lazy circles when another flying buddy showed up. His name was Bob Bell, an engineer at the GM proving grounds in Milford, Michigan. Bob had some nice gear that he flew. Al asked Bob what he'd brought today to play with. Bob sort of frowned and said he was watching "Baby" today. Baby was Bob's wife's pomeranian puppy. Well, actually, Baby was about two years old and a bad-tempered little male that could hump your foot, bite you, and whiz on you so fast you were helpless to dodge. Bob hated the little devil, but he knew the dog was his wife's only outlet for the children they never had, so the saga of Bob and Baby had to be.
We all just kept fooling around with the king-sized toy airplane. I'd pull the nose into the wind, level out, and ease the throttle closed as I dialed in up elevator trim. She'd just hover there in one spot. Loops were sloppy because of the size and airfoil, but landings were really soft and controlled because of the slow speed and stability of this plane.
Al, Bob, and Baby got to drinking some Miller Lite that they found somewhere. Bob had long ago figured out that Baby on beer was a far better deal than straight, sober Baby. They got going pretty good just having fun. Me? I let the toy airplane run out of fuel. I had altitude, so I drifted downwind, then swung into the wind and did a sweet dead-stick landing.
While I was filling the tank, Al took off the removable wing to show Bob all the space inside. We all had been thinking maybe we could put a video camera in this big toy airplane. Al told Bob that this baby's got cargo space for a big camera, hell, it's big enough to put Baby in. Bob lit up like a Christmas Tree.
Next thing I knew the dog was inside the plane with the wing attached. He took the transmitter from me and told Al to start her up. Bob did a big circle around the field and then a fly-by about head high right in front of us. I swear I could hear Baby howling as the plane eased by. Next, Bob pulled back into a shallow climb, headed upwind. After awhile he gave Al the transmitter and let him fly Baby around for a while. I hadn't had a beer, so I was supposed to get the dog back on the ground. Of course with this plane it was easy, but I was worried about Baby anyway. He was very quiet while Al removed the wing. Baby had been airsick, which served those two airheads right.
Al and Bob are both gone now, Al with lung cancer and Bob with liver problems. I still think of them now and then. Especially the day Baby learned to fly.
Articles written by Larry Ennis
Tags: dogs, flying, model airplanes
Categories: Arts, Humor, Life | Comments (1) | Home
Leave a Comment
(To avoid spam, comments with three or more links will be held for moderation and approval.)