October 20th, 2009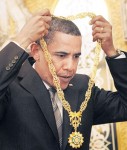 I've watched President Obama through the campaign and during his first nine months in office.  I've read and watched the mostly adoring press coverage.  I've also read and heard the alarmist conservative plaints to the effect that Obama is a not-so-secret socialist/communist/Muslim whose main goal is to destroy America as it is, or once was.
I've also read Obama's first book, Dreams from My Father, and I'm halfway through his second, The Audacity of Hope. (I'm beginning to wonder how many autobiographies one man can write.)
I'm arriving at a picture of Barack Obama — both as a man and as a politician — that differs significantly from the worshipful images of a sainted savior painted by liberals and the imaginary Manchurian Candidate that dominates the nightmares of conservatives.
It seems that Obama fits neither of those feverish descriptions.  Rather, he's more of a faux golden boy, the kind of modern man — more often than woman — who is mostly image without accomplishment.  Because of, not despite, his mixed-race heritage, upbringing in exotic settings, and loss of a father he never knew, he emerged as one of those very bright young men who seemed to always succeed without ever doing much.  Everything he touched somehow turned to gold just because he was himself.  He is to the world of politics as Paris Hilton is to the world of entertainment — aura abetted by charisma, free of substance.
He ducks and weaves his way around obstacles, never confronting challenges head-on, never engaging in direct combat that can wound or kill.  He's the brilliant golden boy, after all, and everything can be forgiven.  He's not the kind of man who could fight his way through the corporate world to become a CEO, and he wouldn't make it far in the military.  But he's a perfect politician, a force unto himself, who managed to become President of the United States without ever having done much that was hard or dangerous.
And how's that working out so far?  Campaign promises unfulfilled, hard decisions ducked, a solid majority in Congress that accomplishes little because of a lack of firm presidential leadership.  After the health care reform, cap-and-trade, and stimulus debacles, the President is now dithering his way through a decision on the war in Afghanistan.  Or, perhaps he's trying to avoid making a decision.  The golden boy has met an obstacle he can't talk his way around; he has to make a decision that's among the hardest imaginable.  If he goes one way, we're almost inevitably headed into another Vietnam-like scenario; if he goes the other way, it will be him who lost Southwest Asia.  The worst decision, and the one he may make, is right down the middle — and that's a guarantee of failure.
I don't want Obama to be another failed president.  However, I fear that's where he's headed because a faux golden boy can't last long in a job that requires a real iron man (or woman).  When we look back on the Obama presidency some years from now, it may be that the recent Saturday Night Live skit on Obama's failures was the gasping canary in the coal mine.
Articles written by Tom Carter
Tags: Afghanistan, failures, Obama, promises
Categories: Life, News, Politics | Comments (11) | Home
Leave a Comment
(To avoid spam, comments with three or more links will be held for moderation and approval.)