November 23rd, 2009
By Larry Ennis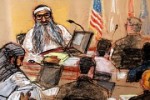 Attorney General Eric Holder has yet to set up shop for the trials of the Gitmo Five. Meanwhile, the Five are reportedly already wanting to lay down certain rules that will allow them to make a mockery of all the victims and our justice system.
Were it my decision to make, there would be no civil trials for terrorists. These people have no problem with what they did. In fact, they are considered by their fellow radicals as heroes of the highest honor. If our government allows these terrorists any slack at all, then we need a new government. How does anyone justify giving these SOBs anything but the firing squad? Instead we will get stuck watching them hate America thanks to ABC, NBC, and CBS.
Once again the citizens are forced to suffer for the pleasure of our liberal President and our Democratic House and Senate. Some who post here accuse me of being paranoid, but friends, if being paranoid can in some way help to prevent what's happening to our nation, then I'm a nutcase
Don't be too surprised if the United States Justice Department tries to find a reason to handle the Fort Hood murders the same way.
It seems to me that our present federal government is far too easy on terrorists. Maybe we can take fewer prisoners in the war on terrorism. The Muslims don't seem to let the prisoner of war population get out of control. Maybe we should do the same.
Articles written by Larry Ennis
Tags: federal trial, Guantanamo, Holder, liberal, New York, Obama
Categories: Military, News, Politics | Comments (3) | Home
Leave a Comment
(To avoid spam, comments with three or more links will be held for moderation and approval.)