November 14th, 2009
By Tom Carter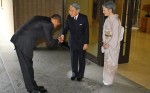 Well, President Obama has now bowed before the Emperor of Japan, symbolizing the superiority of this head of state over himself and his country.  Say what you want, but it's not just a sign of respect.  It might be interpreted that way if the Emperor had bowed in return, but he didn't, of course — he has a better understanding of who and what he is and, apparently, more respect for his country.
First the bow before the King of Saudi Arabia, and now this, all in the context of a President who spends a lot of time apologizing for his country.  The White House tried to explain away the bow in Saudi Arabia; I wonder how they'll spin this one.
Obama may not think it's a big deal, but I suspect most Americans disagree.
Articles written by Tom Carter
Tags: bow, Emperor of Japan, Obama, respect, sovereignty
Categories: News, Politics | Comments (10) | Home
Leave a Comment
(To avoid spam, comments with three or more links will be held for moderation and approval.)