November 26th, 2009
By Larry Ennis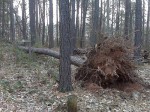 They were four close friends who time and distance separated, but throughout life they were never farther apart than the blinking of an eye.
We are often tempted to wonder if God is real. I'm guilty at times of falling prey to such blindness. Thinking back, we are often amazed by recollections we have and how God helped us in our lives.
Just little country farm boys, we would often tempt fate in knowing and unknowing ways. We had our share of chores and farming duties to attend to, but we were also allowed time to play and explore. Tosh and the rest of the crew were always into something.
Ed and Tom were the Wideman boys; their parents rented a small farm from old Mr. Millwood. Tosh and Travis lived about a mile from the Wideman brothers, so it was inevitable that we'd all become friends. After being told about "dry creek" fishing by old man Millwood, the four boys were sold on the idea.
Dry creek fishing comes about as the result of the creeks drying up except in their deepest spots. The fish are forced to inhabit the deep places because the hot dry summer hasn't left them much choice. This need to find water also applies to snakes, turtles, frogs, and whatever else needs water.
The four boys fished up and down Cheatom Creek pools, hoping to catch some real lunkers so they could have a fish fry. After a day of having to contend with all the other deep pool dwellers, they gave up. Snakes in particular were very bothersome. No one wanted to get snake-bit.
The oldest Wideman daughter had been bitten earlier in the year, and we all were aware of the problems she had suffered as a result. Her name was Kathleen, but we all called her Kat instead. So after much discussion Tosh, Travis, Tom, and Ed decided the snakes could have it all. The boys had dodged the snake bites, which is sort of fun but not very smart. Leave those bad reptiles alone!
Spring that year had brought tornadoes and a lot of high winds. One of the results of such weather was a lot of blown-down trees. The four boys decided they would really be useful and turn some of those fallen trees into firewood.
It was a beautiful day that the boys picked to cut some firewood. They headed into the woods with a double-bladed ax, a cross-cut saw, and an RC bottle filled with kerosene. The kerosene is used to clean pine resin off the saw blade — not a real problem because we were going to cut hardwood.
After having to wrestle the saw from bad cuts that allowed the log to collapse on the blade and pinch it, we decided this wasn't gonna work. Travis had already figured another way to do it. His Plan B was to top the tree first and saw from top to bottom. Years later Travis would recall the plan and what followed. After the initial topping the older boys had been sawing, they had cut off two chunks of about thirty inches each. Ed and Travis decided to try to lift the trunk high enough to lay one of the earlier cut pieces under it.
Tosh and Tom as well as a little Rat Terrier named Black Boy had been of chasing some confused squirrels that most likely had been living in one of the downed oaks. The little dog chased a squirrel down into the hole made when the wind ripped the tree from the ground. Tom and Tosh were partially into the same hole trying to get the dog.
It was at that moment that the remaining piece of tree trunk and root ball decided to once again stand upright. Travis screamed at the top of his lungs for everyone to get away from the tree. In the blinking of an eye Travis mounted that oak a la Slim Pickens in the movie Dr. Strangelove. For the briefest of moments the tree hesitated — just long enough for Tom, Tosh, and Black Boy to get clear. Once that moment had passed that old tree shot upright like some ancient siege engine. I suppose it was a form of kinetic energy.
That catapult ride should have killed Travis, but not so — he broke his left thumb but was able to get up and go check on the others. Travis realized that he had been part of something very powerful. God stood up to death and won — none of my children today, not even the dog.
And so it has always been.
So many of my friends I'll not see again, but you will all live within my heart and soul.
(This article was also posted at Old Duggy.)
Articles written by Larry Ennis
Tags: dry creek, firewood, fishing, snake
Categories: Life | Comments (1) | Home
Leave a Comment
(To avoid spam, comments with three or more links will be held for moderation and approval.)