November 11th, 2009
By Tom Carter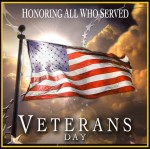 Veterans Day is one of the more serious and somber of the holidays Americans observe.  That's as it should be, for the purpose is to remember those who served our country in the armed forces, sometimes to the point of suffering grievous wounds or losing their lives.  As people attend Veterans Day remembrances or wander through national cemeteries where veterans rest forever, they are paying respect, the most valued recompense, to those who sacrificed for their freedom.
That respect needs to be maintained beyond Veterans Day, however.  As Jan Barry highlighted yesterday in Dying on the Home Front, many veterans aren't getting the health care and other support they legally and morally deserve.  This is an obligation to veterans that the nation must meet, and it must be a higher priority for politicians and average citizens alike.
Sometimes the question arises as to who is actually a veteran.  In the broadest legal definition, those recognized as veterans are people who have served on active duty for at least 90 days in the Army, Marine Corps, Navy, Air Force, or Coast Guard.  Those who served only in the reserves or in the National Guard must have six years of service, unless activated for at least 90 days on active duty.  Service in all cases must be honorable, of course.
Among these are a smaller number who served in combat, facing an enemy force and under fire.  The distinction may be made that these are the true veterans, the ones who have "seen the elephant."  As a professional soldier with 30 years service and a combat veteran, I object to distinctions of that sort.  Anyone who serves in the armed forces, whether as a draftee of years past or as a volunteer, offers himself or herself in service to the country.  The fact that most are not called to engage in direct combat doesn't diminish the importance of their service.
There's no question that our armed forces, especially the Army, are better and more professional since the draft was ended in 1973.  I wouldn't go back to conscription except in an emergency, but I sometimes wonder if we haven't lost something by eliminating the obligation that young people serve the country that provides them the opportunity and advantages inherent in being an American.  Military service is a broadening experience, an awakening of sorts, that would be beneficial for today's young citizens, many of whom have grown up to expect much without giving anything in return.
Those in uniform sometimes suffer the sneers and insults of a few people whose ideology makes them incapable of respecting the service of others.  But far more often, we're thanked for our service by strangers whose sincerity is obvious.  To all of you, on this Veterans Day, I want to say that your kindness and respect are far more valuable to us than you'll ever know.
Articles written by Tom Carter
Tags: service, veteran, Veterans Day
Categories: Life, Military | Comments (3) | Home
Leave a Comment
(To avoid spam, comments with three or more links will be held for moderation and approval.)