December 10th, 2009
By Tom Carter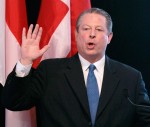 Two days ago Slate.com published an interview with Al Gore by John Dickerson.  The interview was part of a publicity tour in which Gore is flogging his new book, Our Choice.  In addition to Gore's standard preaching on climate, he addressed the so-called ClimateGate e-mails scandal.  This is the first reaction I've seen from Gore since the hacked e-mails were published.
Gore's Academy Award-winning movie, An Inconvenient Truth, is well-known to contain numerous errors of fact.  The explosive e-mails of ClimateGate present another kind of inconvenient truth for Gore.  So how does he deal with it?  With bald-faced…well, perhaps we should say "misrepresentations of the truth." 
Here are a few examples of Gorean truth from the interview:
I think it's been taken wildly out of context. The discussion you're referring to was about two papers that two of these scientists felt shouldn't be accepted as part of the IPCC report. Both of them, in fact, were included, referenced, and discussed. So an e-mail exchange more than 10 years ago including somebody's opinion that a particular study isn't any good is one thing, but the fact that the study ended up being included and discussed anyway is a more powerful comment on what the result of the scientific process really is.

These people are examining what they can or should do to deal with the P.R. dimensions of this, but where the scientific consensus is concerned, it's completely unchanged. What we're seeing is a set of changes worldwide that just make this discussion over 10-year-old e-mails kind of silly.
The inconvenient truth, of course, is that most of the damning e-mails are much more recent, some from 2009.  You can see the dates on specific e-mails linked to in Brianna Aubin's recent article, ClimateGate.
Gore went on to make the usual claim that most if not all scientists who dissent from his climate change orthodoxy are corrupted by funding from carbon polluters, mainly oil companies.  This isn't true, of course, and the fact is that scientists who dissent often suffer from retribution by governments and academia, as research grants dry up, articles can't be published, and access is denied to platforms for discussion.  In fact, the ClimateGate e-mails tend to confirm this.
Gore also said,
I'm not a scientist, so I'm not the best witness, but I have followed the debate for 40 years. It was a somewhat harder case to make 30-40 years ago, but it was still clear.
Well, at least Gore proves that he can tell the truth now and then — I don't think anyone ever accused him of being a scientist.  But then in the next sentence, he's at it again.  The case for global warming was, indeed, harder to make 30-40 years ago, considering that scientists and the media were trumpeting global cooling and the coming ice age.
Dickerson issued an update to his interview with Gore, during which he didn't challenge Gore on the obvious fact that the e-mails aren't 10 years old.  Perhaps he was ignorant of the facts, or perhaps he just didn't want to contradict a prophet to his face.  But Gore, or more likely his staff, finally figured out that he, well, let's say "misspoke" during the interview.  Here's Dickerson's update:
In the interview, Al Gore said that the e-mails printed from researchers at the University of East Anglia were 10 years old. They are more recent than that, including many from 2009. In response, Gore has issued a statement: "The e-mail exchanges that I focused on are approximately 10 years old. Some of the e-mail exchanges cited by others are more recent. None of them change the scientific consensus in any way."
I thought the media might jump on Gore for his blatant misrepresentation of the truth during the Dickerson interview, but no.  I found a lot of blog references, but nothing taking him to task in the mainstream media.  Maybe I just missed it.
In the interest of full disclosure, let me add that I, like Al Gore, am not a scientist.  But I'm also not a fool, and I can see enough holes in Gore's version of the truth to confirm my skeptical views about global warming orthodoxy.  Before we take draconian measures to confront this supposedly looming catastrophe, seriously damaging our economy and our way of life, I'd like to see clear, undisputed facts.
Articles written by Tom Carter
Tags: Al Gore, climate change, climate shift, climategate, e-mails, global warming
Categories: News, Politics, Science | Comments (11) | Home
Leave a Comment
(To avoid spam, comments with three or more links will be held for moderation and approval.)