December 4th, 2009
By Brian Bagent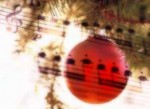 No politics.  No philosophy.  No religion.  No moralizing.
Dear Readers,
Pour yourself a glass of Merlot, turn on The Nutcracker Suite, sit down, and just listen.  You don't have to watch it live, or even see a video of it.  And if you don't have a CD of it, you can listen to it through playlist.com.  Just create an account (it's free) and start searching for it.
I swear, if anything aches you, this will heal it.  It is Christmas Time, after all, and it is traditional.  But even apart from that, it is fine music.  Turn the lights off, turn the volume up, and just soak it in.  I know, I know, it's classical music.  Well, really, it was written during the romantic era, but enough of the pedantics.
If you have a chance to see it live, spend the money and go see it.
Some others you might enjoy:  Mozart's "The Magic Flute" (it's an…opera); Mozart's "Don Giovanni," especially the Overture; Mozart's "Rondo in D" and "Turkish Rondo;" Mozart's "The Marriage of Figaro" (also an opera);  "The Blue Danube Waltz" by Johann Strauss; Beethoven's 9th Symphony, 4th Movement, called "The Ode to Joy" (you've probably heard it in church called "Joyful, Joyful, We Adore Thee").
Go to a symphonic concert, preferably a concert that's going to be heavy on strings.  If you don't know anything at all about classical or romance era music, tell them you don't when you talk to them.  They love teaching about these things.  There is little on planet earth that is more moving than the lead violinist playing a solo, and it doesn't really matter what it is that he/she is playing.  You may have a few CDs or old vinyls, but it isn't the same thing as hearing it live, not by a very, very long shot.
Music should cleanse the soul.  Most of what passes for music these days falls woefully short.
Articles written by Brian Bagent
Tags: Beethoven, Christmas, concert, Mozart, music, Nutcracker Suite, Strauss
Categories: Arts, Life | Comments (17) | Home
Leave a Comment
(To avoid spam, comments with three or more links will be held for moderation and approval.)