December 7th, 2009
By Larry Ennis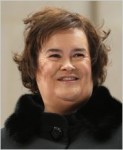 There is so much going on that it's hard to comment on everything. The climate and global warming fiasco is playing out to be much more fiction than fact in my opinion. The recent discovery that many in the scientific community were less than truthful on the climate change situation only reinforces my doubts. However, you don't need a PhD to see that money and politics are a driving force behind this "green awareness" that has been unleashed on the unsuspecting populace. Hopefully the whole issue will become old news and we can turn our attention to domestic and foreign problems.
One ray of sunshine is Susan Boyle, the little middle-aged Scottish woman with the voice of an angel. Born Susan Magdalane Boyle in April 1961, she has become an overnight sensation. Her latest album, "I Dreamed a Dream," is presently the fastest-selling in the U.S. with sales approaching 800,000. The lady has talent. Hopefully she will have a long, rewarding career.
Far away at the other end of the scale is Adam Lambert. More controversial than talented, he is at best hard to define without creating even more controversy. ABC Television has booked Lambert for both Good Morning America and The View. Of course, everyone will be watching to see if he does a repeat of the routine he did during the music awards. Evidently a tongue in the right mouth is almost priceless. Next question is can Lambert "out tongue" Gene Simmons. Simmons is a founding member of the hard rock group "Kiss" and parlayed his tongue and crazy costume into fifty million dollars.
The party crashers at the last White House have stirred up quite a storm. The question of who was responsible for the security failure remains unsolved. Like everything else with this administration, they have elected not to allow a full investigation. According to Fox News, White House security has been breached 91 times in the last 30 years, which at least shows that it's far from uncommon for it to happen.
Tiger Woods has been accused of having other women in his life besides his wife. About seven and counting so far. All evidence indicates that except for his desire for other women, Woods has been a good husband. Can he make it through this scandal without more much damage? I've long respected this man for his golf game and his devotion to his family. I'd hope he will survive this and continue to have a decent life.
Health care reform has hit a snag on the issue of abortion. Wouldn't it be strange if Obama's health reform stalled and failed because of abortion? The blockage is being caused by Democratic Senator Ben Nelson of Nebraska. Nelson's amendment would place certain restrictions on government-funded abortions. Anyone who has followed the abortion issue will recall that at least as far back as the Clinton Administration, abortion was limited to cases where the mother's life was in danger. Somehow the pro-choice people always worked around that limitation. Nelson is attempting to ban federal funding for abortions in the Senate health care bill, as it's banned in the House bill. Will it work?
Articles written by Larry Ennis
Tags: abortion, Gene Simmons, health care reform, Susan Boyle, Tiger Woods
Categories: Arts, Life, News, Politics | Comments (5) | Home
Leave a Comment
(To avoid spam, comments with three or more links will be held for moderation and approval.)