December 3rd, 2009
By Harvey Grund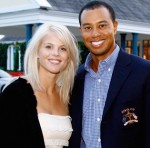 I've been a bad boy, Tiger Woods readily and publicly admits, … but I don't want to talk about it!
OK, so he made a mistake — he slipped up — he had an affair or whatever the heck he did — that's one thing, and no, he doesn't have to discuss it with every hack reporter who feels he or she is "entitled" because Tiger is a famous sports star.
He does need to square things with the wife and with his sponsors, but his real fans don't need an apology — they need to see him tee off. Does Tiger really think that many of his loyal fans really care about his private life? Perhaps some do, but those are the ones he doesn't need — they're not golf fans, they're looking for a role model. Tiger Woods didn't get where he is by being an angel or a role model — he got where he is by being one of the best golfers in the world.
Apparently Tiger either has some physical injury from the car crash … or he is being really dumb by skipping the "Chevron World Challenge" (aka: "Tiger's Tournament").
ESPN reports that:
Proceeds from the event (Tiger's Tournament) go to the Tiger Woods Foundation, which has a learning center in nearby Anaheim that has helped thousands of students. That concept has been a longtime dream of Woods and his late father, Earl, conceived nearly the moment Tiger turned pro in 1996.

But the charity is likely to take a hit this week, as Woods is at home in Florida, nursing the injuries — both literal and figurative — suffered in the one-car crash Friday that has made worldwide headlines.
You've probably all heard the joke about Mike the avid golfer:
Mike was teeing up for a very difficult shot. At that moment a funeral procession went by. Mike stopped, stood still with his hat over his heart, and bowed his head. His golfing partner looked at him and said, "Mike, that was kind and decent of you to show such respect for the dead."
Mike replied, "Yes, we would have been married twenty-six years come tomorrow."
That, to many sports fans, is more of a fantasy than it is a joke.
(This article was also posted at My View from the Center.)
Articles written by Harvey Grund
Tags: accident, charity, golf, scandal, Tiger Woods, tournament
Categories: Humor, Life, Media, News | Comments (3) | Home
Leave a Comment
(To avoid spam, comments with three or more links will be held for moderation and approval.)