December 18th, 2009
By Tom Carter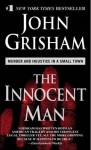 How can it be tragic to be innocent?  Perhaps when someone has been wrongly convicted of a crime and spends many years in prison, sometimes on death row, only to be freed when it's found that he didn't commit the crime.
I recently read John Grisham's The Innocent Man
.  This book was a departure for Grisham, who normally writes fiction about lawyers and the legal system.  It recounts the case of Ron Williamson, who along with his friend Dennis Fritz was wrongfully convicted of raping and murdering a young woman.  Williamson was sentenced to death, Fritz to life in prison. 
The convictions of Williamson and Fritz resulted from incompetence, venality, sloppiness, prejudice, and egotism on the part of the Ada, Oklahoma police, prosecutor, and courts.  Oklahoma state investigators and criminalists helped along the way.  Despite the emergence of clear evidence of their innocence, based on DNA testing, it took a lot of hard work by a conscientious federal judge and his staff to finally have their freedom restored.
Williamson and Fritz were convicted on the basis of ludicrous "dream" confessions, the clearly false testimony of jailhouse snitches, other perjured testimony, and invalid testimony by an "expert" about hairs found at the scene of the crime.  In addition, the prosecutor withheld exculpatory information from the defense, and the judge ruled that evidence indicating their innocence could not be presented during the trial.  Beyond all that, Williamson was not mentally competent to stand trial, an issue that his court-appointed lawyer inexplicably failed to pursue.
When finally set free, Williamson had spent over 11 years on death row, at one point coming within five days of execution.
It would be one thing if these cases were rare, but they aren't.  When Williamson moved onto Oklahoma's death row, he became one of five inmates condemned to death who would later be proven innocent.  According to the Death Penalty Information Center, 139 people sentenced to death in 26 states have been found to be innocent.  Of course, that begs the question, how many innocent people have been executed?  The simple fact is we'll never know.
Many exonerations of death row inmates have come through the work of the Innocence Project, which relies on DNA testing to prove innocence.  It's chilling to read the long list of people, some of them sentenced to death, who have been proven innocent by DNA test results.  But we have to remember that DNA isn't always available at crime scenes, and people wrongly convicted in such cases have little chance of ever proving their innocence.
Oklahoma and many of its citizens are ardent supporters of the death penalty, executing more people per capita that any other state, including Texas and Virginia.  It was the first state to adopt lethal injection, and many Oklahomans were disappointed that their state wasn't the first to actually use that "modern" method of killing their fellow citizens.  Grisham details the entire technical process of execution in Oklahoma; reading that dispassionate explanation of the process is deeply unsettling.
But it isn't just Oklahoma.  Every state that executes people and the federal government have almost certainly killed innocent people in the past.  How long can a supposedly civilized society tolerate this moral outrage?
I'm strongly opposed to the death penalty, as I made clear in an earlier article.  Until it doesn't matter how much money a defendant has and the criminal justice system never makes mistakes, we will continue to convict and sometimes execute innocent people.  Even if the system were error-free and the identity and means of defendants weren't issues, it would remain a mystery how anyone could consider it morally right for the government to methodically kill its citizens.
Articles written by Tom Carter
Tags: death penalty, DNA, Fritz, Grisham, innocence, Oklahoma, Williamson
Categories: Life, Politics | Comments (7) | Home
Leave a Comment
(To avoid spam, comments with three or more links will be held for moderation and approval.)