January 15th, 2010
By Larry Ennis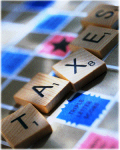 Somewhere between health care reform and pay raises for politicians, I lost all track of the non-stop Obama tax machine. I'm surrendering myself to the reality that my descendants will have to pay for taxes imposed during my lifetime. The thought of such a hateful legacy is best ignored lest I go into a "postal" frame of mind.
So it was as I watched what is arguably one of the poorest nations in the world try to survive a massive earthquake, a crisis of human suffering and death that will be historic. White House Chief of Staff Rahm Emanuel has said, "You never want a serious crisis to go to waste." In layman's terms, that means to slip something past while everyone's attention is focused elsewhere. This is a perfect example of that philosophy.
While media attention is on Haiti, the President announced a plan to institute a $90 billion tax on the banking industry in an effort to recover stimulus funds that have been loaned to banks.
It goes without saying that such a tax on the banks is really a tax on the American people simply because the cost of the taxes will be recovered by charging customers added fees. This would be less questionable were it not for the fact that in the beginning the banks were supposed to pay back from their profits. What do you suppose happened to that noble idea? Could it be that this Administration is already shifting into campaign mode? 2012 is only two years away, and it's not too early to start courting contributors for a second-term run. Remember that Obama spent most of his brief Senate career campaigning to become President.
So what if the taxpayers get used to preserve big contributors' profit margins — isn't that what politics is all about?
I'm thankful that I live where I have something to be taxed away instead of being in Haiti with nothing but devastation and death.
Articles written by Larry Ennis
Tags: bailout, banks, Haiti, health care, stimulus, taxes
Categories: News, Politics | Comments (12) | Home
Leave a Comment
(To avoid spam, comments with three or more links will be held for moderation and approval.)