January 19th, 2010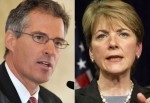 Tomorrow morning, health care, the Democratic party, and Obama's agenda are going to come up for a vote.  They're going to come up for a vote in Massachusetts, a state where Kennedy held a Senate seat for 47 years and a Republican has not been elected since 1972.  That the race is even contested is astonishing.  That it has whipped up to a dead heat is a miracle.  As for the 58% of Americans who have been polled as stating they would prefer a smaller government that offered fewer services to the people, most of them are simply stuck crossing their fingers in their home states.
Unfortunately, there is reason to believe that some of the liberal left may not be so restrained about trying to play an illegitimate role in the Massachusetts election.  Ed Schultz has gone on record stating that if he lived in Massachusetts, he'd vote 10 times if he could, and Chris Matthews was caught pining for the good old days when they could simply buy votes and not worry about any of this free election nonsense (my words, not his).  However, I personally deem actual election fraud unlikely.  What I do think is a likely possibility is that the Democrats will be able to defer Brown's swearing-in in order to get health care passed before he is seated.  After all, they've already compromised and bribed through so much of this that it really doesn't make much difference which horrible, twisted parody of legislation gets passed at this point, so long as they manage to legislate the foundations in time.  Of course, considering what it would mean for health care if Brown wins, trying it would probably send the American public up in arms in protest.  But hey, that's nothing new; after all, 56% of Americans oppose the current legislation right now.  Dems are already going to have an impossible time getting elected in 2010 and 2012.  If you're already going down in flames, why not add a little more fuel to the fire if it will help you accomplish your crowning achievement before you're completely consumed?
However, I do have a couple of warnings for anyone who might be reading.  One thing I am going to caution the New Left against in advance (not that they'll listen to me) is that even if Coakley manages to win the election, it will not necessarily mean that the country has accepted the agenda currently being rammed through Congress.  That the campaign is running so close is as much due to Coakley's foolishness, incompetence, horrible past record, and general lack of campaign work as to any good moves on Scott Brown's part or on the part of the Republican Party or the Tea Party movement.  While a Scott Brown win tomorrow would undoubtedly be a shattering negative verdict on America's opinion of the direction our country is currently heading no matter how close it is, a one-point Coakley victory would hardly be evidence of the converse in bluest of the blue Massachusetts.
The other is that while Scott Brown is an infinitely better choice than Coakley and worth supporting for the sake of booting health care legislation alone, he is not exactly anybody's model of an ideal limited-government and free-market candidate.  For that you'd want Joe Kennedy.  But although Massachusetts may be ready to give the Democratic party a serious jolt tomorrow, it's also the state that passed Commonwealth Care.  Like I said, it's really a small miracle that Scott Brown even managed to close with Coakley in the polls, let alone has a serious shot at winning.  I may prefer someone who didn't support the Massachusetts state health care reform, but at least he's proved that he's thinking with his own head on these issues and not just voting the progressive party ticket.
Finally, I'd like to offer up just one last parting thought.  In the debate between Brown and Coakley, the moderater called the seat "Ted Kennedy's seat," as though it were Ted Kennedy's private property and that even in death we must honor Kennedy's wishes as to what should be done with it as we would honor a man's last will.  However, Scott Brown quickly and rightly rebutted this, saying "With all due respect, it's not Ted Kennedy's seat, it's not the Democrats' seat, it's the people's seat."  This proved that, whatever Scott Brown's faults, he is at least aware of the fact that any power this appointment may give him is only his so long as it is freely granted him by the people of Massachusetts.  For that alone, if the people of Massachusetts have 1/10th the desire for independence and freedom that they had when they tossed tea into the Boston harbor and fired the "shot heard 'round the world," I ask them to please vote for Scott Brown.
Articles written by Brianna Aubin
Tags: Coakley, Democratic, health care, Massachusetts, Republican, Scott Brown
Categories: News, Politics | Comments (6) | Home
Leave a Comment
(To avoid spam, comments with three or more links will be held for moderation and approval.)