January 30th, 2010
By Larry Ennis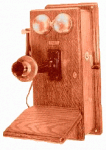 How many reading this will remember the old crank telephones that hung on the wall? I remember the crank phone my Grandpa Cole had at his farm in Lamar County, Alabama. Cole was not the telephone type, and he was tight with his money to boot. The old man was pretty well-off because of his tight ways. Cole had a place in his heart for my cousin Tom. My grandparents had raised Tom since he lost his father and, a short time later, his mother. Tom — or as we called him, Sonny — was just a toddler when he went to live at Grandpa's house. Sonny was the reason Cole got that old telephone. About anything Sonny wanted, he got, but if he was spoiled I never knew it.
That phone amazed me. The very thought of talking over a wire on a pole was mind-blowing to a kid who had just started Mrs. Ivie's first grade class. Sonny was good about sharing with all the other grand kids, and he taught me to use that old phone. I remember having to stand in a chair to reach that old wall-hanger. That was the first and also the last time I would see that old crank type telephone in actual use.
More than a little water has passed under my bridge of life. I have been fortunate enough to witness so many things in seventy years that they almost offset the sadness and pain that mark my path into old age. The sadness comes in memories such as the old telephone and a beloved relative that died far too soon. The pain, alas, is accepted as bones and body surrender to old age. Thankfully, I've managed to keep my hair and teeth!
The next time I ran across a telephone was on a visit to my cousin Sue in Jasper. She had the type that you couldn't dial but had to talk to the operator instead. This phone was much smaller than the old crank type, and it was a table model, not a wall hanger.
Don't forget that this was in the late 1940s. During my stay in California I was exposed to more up-to-date things and phones began to migrate into the taken-for-granted part of life.
Not until the advent of the cell phone and the internet did I revisit serious telephone interest. My job was much complicated by computer control of nearly ever facet of the manufacturing process. I was attending classes more than I worked. During a ten-week class on broadband networking I met Ted Ellis. Ted was not just a great instructor, he was an encyclopedia of electronic communications knowledge. One of his previous jobs had been working to develop a communications system at the University of Hawaii. They built a system and called it the ALOHAnet. Having used the packet concept on my own amateur radio station, I had a fair grasp of the ALOHA system. Ted had worked with Norm Abramson. Abramson was the lead professor on the project and has always been noted as the inventor of the system. The greatest thing about knowing Ted was hearing him predict the eventual use of computers in America and how they would change life. Linking them together would create an entire new frontier in communications.
A personal computer didn't show up in my house until 1996, and even then it was my wife who bought the thing. My wife is a very smart computer geek and outgrew that first one pretty quickly. I've had a pretty steady flow of computers and cell phones as a result of her search for the ultimate machine. Her newest toy is a cell phone that can text, surf the web, take your picture, and play music all at the same time. The new Apple iPad has now caught her eye, so Lord help me, as is sometimes said.
I've stopped carrying a cell phone and seldom use the dial-up phone here at the house. The cell phones and tiny hand-held web-surfing gadgets are making us a nation of text and tweeter communicators. Do you know anyone who isn't on Facebook, MySpace, or some similar interaction website? Such websites promote goodwill, or so I'm told. I do know beyond a doubt that all this open communication and interaction will be awesome in years to come. I sometimes wince at the thought of this medium as a weapon. The internet has already pretty much antiquated the printed word and television, and the last presidential campaigns used the internet to reach voters.
All of which brings me to the conclusion that we owe a lot to Abramson, Ellis, and many other famous and not-so-famous people. We have come forward light-years, it seems, since Sonny and I used that old crank phone to talk to someone a mind- staggering three miles away.
Oh yes, before I forget — thanks, Mr. Bell!
Articles written by Larry Ennis
Tags: computer, Facebook, MySpace, technology, telephone, Twitter
Categories: History, Life, Science | Comments (0) | Home
Leave a Comment
(To avoid spam, comments with three or more links will be held for moderation and approval.)