January 7th, 2010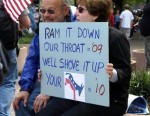 According to an article in USA Today, Obama is still in a tearing hurry to get his "historic" health care bill passed in spite of (or more likely because of) a set of horrendous poll numbers and an utter lack of bipartisan support.   Despite his campaign promises of wanting to reach across the aisle and create a new aura of transparency, not to mention his repeated promises to have the whole thing on C-SPAN (see what Nancy Pelosi thinks of that!), he is willing to bypass both public hearings and bipartisan debate in the name of the cause.  And rightly so… for him, anyway.  Because if he doesn't get this piece of legislation through Congress before the 2010 elections, then he and the Dems aren't going to get another chance anytime soon, and they know it.
That they must hurry in order to get this bill passed was emphasized today by the fact that two Democratic Senators, Chris Dodd of Connecticut and Byron Dorgan of N. Dakota, have declared that they will not seek re-election in November.  This is good news for the N. Dakota seat, which will almost certainly be gobbled up by a more conservative-leaning candidate.  However, it is almost disappointing that Chris Dodd will not seek re-election; after his deep involvement in the housing bubble mess, Joe Blow off the street could probably have beaten him in a walk.  Now the Democratic candidate for the seat will probably be Connecticut Attorney General Richard Blumenthal, who will be a little harder to defeat in left-leaning CT.  As for potential Republican candidates, I am personally hoping that Peter Schiff, president of the firm Euro-Pacific Capital, will manage to win the bid.  Schiff predicted the bubble economy and the housing bust back in 2005, and is advocating stopping the spending and borrowing in favor of saving, production, and letting the free market recession take its course.  As an added bonus, he also thinks the health care bills currently making their way through the House and Senate is "one of the worst pieces of legislation ever drafted."
So go ahead and run, Mr. Obama.  Get that health care bill passed as fast as you can… if you can.  As for whether or not your election really was a mandate for the Democratic party to turn the US into a progressive utopia… I'm with the people holding the sign.
Articles written by Brianna Aubin
Tags: Dodd, Dorgan, health care, legislation, Obama, polls
Categories: Economics, News, Politics | Comments (6) | Home
Leave a Comment
(To avoid spam, comments with three or more links will be held for moderation and approval.)