February 7th, 2010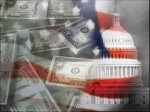 The House of Representatives voted to increase the debt ceiling by $1.8 trillion last Thursday, which combined with the Senate vote on January 28th, will raise the nation's national debt to approximately $14.3 trillion.
Every single Republican in both the House and the Senate voted against the increase in spending, a fact that the liberal left seems determined to attribute to partisan bickering and obstructionism, rather than a rare remnant of sanity amongst our political class.  Most of the 37 Democrats who voted against the bill in the House were either first or second-termers in competitive districts.  As for the Senate vote, though nobody has said so, I believe that it is almost certainly true that the Senate rushed the issue through so quickly in order to get the bill passed before Massachusetts senator Scott Brown could be seated and destroy the Democrats' filibuster-proof majority.
Many will argue that we needed the extra money to prevent a default on our obligations.  In reality, however, the only thing that raising the debt ceiling will do is make that default worse once we are finally forced to stop this insane spending spree.  If America is to save itself from the prospect of default and collapse, the most important step would be to finally accept the fact that the dictates of reality accede to no one… not even Washington.
Articles written by Brianna Aubin
Tags: Congress, debt ceiling, default, Democrats, national debt, Republicans
Categories: Economics, News, Politics | Comments (4) | Home
Leave a Comment
(To avoid spam, comments with three or more links will be held for moderation and approval.)