February 8th, 2010
By Tom Carter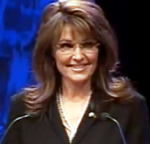 Poor President Obama.  He can't seem to get no respect, kind of like Rodney Dangerfield.  Now comes a line that isn't going to go away.  In criticizing Obama at the Tea Party national convention in Nashville, Sarah Palin said, "How's that hopey-changey stuff working out for ya?"
The perfect mix of zing and snark.  We're going to be hearing "hopey-changey" for a long, long time.  Google is already showing 500,000 results for "hopey-changey," and although there isn't much from the MSM at this point, they'll catch up. 
However, in response to a question about what her top priorities would be if conservatives gain control of the House and Senate, Palin said the following was one of them:
And then, I think, kinda tougher to, kinda tougher to put our arms around, but, allowing America's spirit to rise again by not being afraid [applause] not being afraid to kinda go back to some of our roots as a God-fearing nation [applause] where we're not afraid to say, especially in times of potential trouble in the future here, we're not afraid to say, "You know, we don't have all the answers as fallible men and women so it would be wise of us to start seeking some divine intervention again in this country," so that we can be safe and secure and prosperous again.
Huh?
Don't get me wrong.  I like Sarah.  She's definitely a babe, and her family is swell.  But she's also proven herself to be a vacuous airhead, and I don't think the time will ever come that I want her to be president.  She can keep giving entertaining speeches full of zing and snark, dazzling us with her mangled syntax and funny malapropisms — that will be cool.  But president?  Please.
Articles written by Tom Carter
Tags: convention, hopey-changey, Nashville, Palin, Tea Party
Categories: News, Politics | Comments (13) | Home
Leave a Comment
(To avoid spam, comments with three or more links will be held for moderation and approval.)