February 15th, 2010
By Tom Carter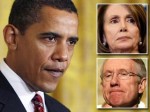 Fred Barnes is the executive editor of The Weekly Standard and a moderate, practical conservative.  His column today is an incisive review of the present state of the Democratic Party's rule in Washington.  One would think that with a Democrat in the White House and majorities in both the House and the Senate, the Democrats could control the national agenda and pass legislation to their liking.  But it hasn't happened:
Today, they still have those majorities and the presidency, but they're no longer in command. Their hopes of enacting the most ambitious agenda of liberal legislation since the days of FDR and the Depression are over. Now they're reduced to stunts, tricks, and gambits usually associated with embattled presidents and minority parties.
One of those stunts, as Barnes explains, is the President's Blair House summit on health care scheduled for February 25. 
Barnes concluded:
Democrats, only months ago, thought of themselves as masters of Washington and rulers of the political universe. A liberal transformation of America seemed to be within their grasp. Now, the public having rejected their program, it has slipped away. Their descent into tricks and ploys and sham events — the stuff of uptight legislators and desperate presidents — has occurred with mind-boggling speed. And they have only themselves to blame.
So what happened to the poor Democrats?  American political reality, that's what.  They got out ahead of the popular will in areas such as health care reform, energy policy (cap-and-trade), managing the war on terror, and so on.  The people snapped their leash, pretty much stopping them in their tracks.  That's the way things work in a democracy, as confused and dysfunctional as it may sometimes seem to be.
The pendulum is swinging.  The people have made it clear that they want some of what the Democrats want, but in more moderate and affordable terms.  They're sick to death of the fiscal irresponsibility of the Bush Administration and the first year of the Obama Administration.  They want the government to pay its bills and reduce the deficit, while continuing to function competently.  Unlike most of the congressional leadership, President Obama seems to be able to adjust to these realities.  We'll see, and the people will render their judgment in November.
An amusing aspect of all this is the degree to which far right extremists have been made to look even sillier than usual.  Their glennbeckian ravings about Obama and the Democrats being closet socialists (maybe even communists — shiver!) with a secret agenda to destroy America was always lunatic nonsense, and that's becoming more obvious with each passing day.
Articles written by Tom Carter
Tags: Congress, Democrats, health care, majorities, Obama, summit
Categories: Economics, News, Politics | Comments (1) | Home
Leave a Comment
(To avoid spam, comments with three or more links will be held for moderation and approval.)