March 25th, 2010
Andrew Breitbart, Editor in Chief of the new websites BigGovernment, BigHollywood, and BigJournalism, is offering a $10,000 reward in the form of a check to the United Negro College Fund in return for any documented evidence of racism at the March 20th Tea Party.
So far, the Tea Party has managed to get hold of two videos (here and here) that show nothing racially offensive was hurled at the black lawmakers.
But the mainstream media, in their turn, has not managed to get hold of a single piece of evidence that the Tea Partiers behaved in a racially offensive manner.  We know this for a fact, because if they had they would have played it over… and over… and over… by now you would have to live under a rock to not have seen it, if it in fact existed.
Additionally, no arrests have been made and no charges have been filed.  And while none of this actually proves that nothing happened, I for one find it difficult to believe otherwise when not only did I not see a single shred of evidence that anyone at the Tea Party was racist, but neither has anyone else with a video camera.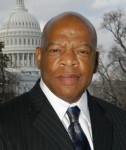 However, Andrew Breitbart is willing to give Representative John Lewis the benefit of the doubt about his claims.  If Rep. Lewis is able to come up with verifiable video evidence of racism, or if he is willing (and able) to pass a lie detector test of the incident, Breitbart will not only concede the argument, he will write up a $10k donation in atonement for the Tea Party's wrongs.
For that matter, I'm willing to take it one step further.  I am so sure that Breitbart will never have to give up his money that I'll see his bet and raise it.  Granted, I don't have the ability to throw the amount of money into the deal that Breitbart is risking, but if Breitbart loses his bet with Rep. Lewis I will personally write out a $50 check to the United Negro College Fund.
In the event that Breitbart and I actually lose, proof of the donation will be done via a scan of the check, which will be posted here.  Fortunately for me, I have about as much fear of this bet being called in as I do of a liberal actually taking up my offer to send them a copy of my research and reading lists.  Y'know, zero?
Let the search begin.
Articles written by Brianna Aubin
Tags: Breitbart, Lewis, racism, reward, slurs, Tea Party
Categories: News, Politics | Comments (22) | Home
Leave a Comment
(To avoid spam, comments with three or more links will be held for moderation and approval.)