April 20th, 2010
By Tom Carter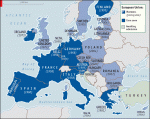 Antonio Tajani, the EU Commissioner for Enterprise and Industry, has decided "that tourism is a human right and pensioners, youths and those too poor to afford it should have their travel subsidised by the taxpayer."  Tajani said, "Travelling for tourism today is a right. The way we spend our holidays is a formidable indicator of our quality of life."
None of this should surprise the citizens of EU member states.  In fact, an early indication that something like this might be coming happened earlier this year, when the EU parliament paid half the cost for 80 children of EU bureaucrats to go on a skiing holiday in the Italian Alps.  Now European taxpayers can look forward to paying around 30 percent of the cost of millions of people's vacations.
I've been in Europe most of the time since 1993, when the European Union was created by the Maastricht Treaty.  Since then it has grown from the original six states to include 27 states, most of the nations of Europe.  This represented what I've always seen as an unacceptable surrender of sovereignty in important areas.  Beyond that, by joining the EU weaker and poorer states benefit economically, at the expense of stronger and more productive states.
I've also watched the expansion of the Euro zone during the past decade, when country after country gave up its national currency, along with control of most national monetary policy.  In addition to political issues associated with national sovereignty, Europe is now struggling to deal with the its economically weak members, the so-called PIIGS — Portugal, Ireland, Italy, Greece, and Spain.  The current problems with Greece, in particular, seriously threaten the integrity and survival of the Euro.
So there you have it.  When the strong and productive join with the weak and less productive to share resources, the strong can never pay enough, and the weak will always expect more.
As America's favorite scatterbrain might ask, "Hey, Europe!  How's that EU thing workin' out for ya?"  Assuming, of course, that she knows where Europe is….
Articles written by Tom Carter
Tags: EU, euro, human rights, PIIGS, sovereignty, vacation
Categories: Economics, News, Politics | Comments (2) | Home
Leave a Comment
(To avoid spam, comments with three or more links will be held for moderation and approval.)