April 11th, 2010
By Tom Carter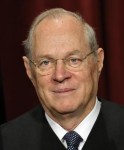 There's a good article in The Atlantic by Andrew Cohen, chief legal analyst and legal editor for CBS News.  In Why Kennedy Owns the Supreme Court, Cohen discusses the increased influence Justice Anthony Kennedy is going to have on the Court once Justice John Paul Stevens retires.
It has to do with Kennedy's current role as the swing vote between the liberal and conservative blocs on the Court and the added influence his seniority will bring once Stevens is gone.  Kennedy will become the most senior associate justice after Antonin Scalia, but since Scalia usually votes with the conservative bloc, Kennedy will be the senior member of the liberal bloc when he votes with them.  That will give him the power to decide who writes opinions when he's in the liberal majority and more influence over the four liberal justices.
This seems to worry Cohen, who considers Kennedy to be a "solid conservative foot-soldier."  That's not an accurate assessment; most objective observers see him as a moderate conservative.  In any case, this is yet another indicator that no matter whom President Obama nominates to replace Stevens, the Court is likely to become more conservative in the future.
Articles written by Tom Carter
Tags: conservative, Kennedy, liberal, nomination, Stevens, Supreme Court
Categories: News, Politics | Comments (0) | Home
Leave a Comment
(To avoid spam, comments with three or more links will be held for moderation and approval.)